After nearly 50 years in business, ITT Tech, one of America's most prominent for-profit colleges, is closing its doors and shutting down all 130 of its campuses immediately in the wake of heavy sanctions from the federal Department of Education.
"It is with profound regret that we must report that ITT Educational Services, Inc. will discontinue academic operations at all of its ITT Technical Institutes permanently after approximately 50 years of continuous service," the company said Tuesday in a press release. "With what we believe is a complete disregard by the U.S. Department of Education for due process to the company, hundreds of thousands of current students and alumni and more than 8,000 employees will be negatively affected."
The DOE had passed a series of strict sanctions against ITT Tech last week.
The sanctions were prompted by the Accrediting Council for Independent Colleges and Schools' recent assertion that ITT Tech was "unlikely to become in compliance with [ACICS] Accreditation Criteria." For the past two years, the Department has become increasingly strict with its guidelines regarding for-profit universities that studies have shown to be less than ideal options for people looking to pursue higher education.
According to Education Secretary John B. King Jr., the sanctions were intended to guard the public from the school's abuse of taxpayer dollars.
"Our responsibility is first and foremost to protect students and taxpayers," King said. "It's clear that we need increased financial protection and that it simply would not be responsible or in the best interest of students to allow ITT to continue enrolling new students who rely on federal student aid funds."
G/O Media may get a commission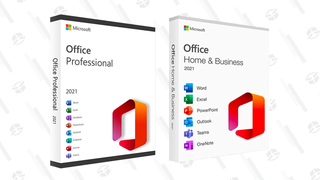 89% off
Microsoft Office Professional 2021 Lifetime License
In addition to barring the school from enrolling new students who were receiving federal aid, the Department of Education also required that ITT hold tens of millions of dollars in extra reserve funds so that it could pay for student aid and other refunds in case it was forced to shut down. ITT Tech has yet to publicly state just what it plans to do with the money.
Though ITT Tech's student body of about 57,000 was considerably smaller than other for-profit universities like DeVry and University of Phoenix, which both enroll hundreds of thousands of students, its name was still synonymous with the promised economic opportunity that all for-profits aggressively market. At its height, ITT Tech offered 49 different educational programs in various fields of study that could be completed at different paces depending on a student's work schedule.
In reality, though, ITT Tech often failed to live up to its promises. In 2005, for instance, it was forced to settle with the state of California to the tune of $725,000 after a group of employees claimed that the school knowingly inflated 49 students' grades so that they would qualify for larger financial aid packages in the form of grants. Additionally, there have been a number of lawsuits filed by former students and investigations launched by at least a dozen State Attorneys claiming that ITT Tech repeatedly pressured students into predatory private loans.
The school's shadier scandals are indicative of broader problems within the for-profit college industry.
A recent study published by George Washington University associate professor Stephanie Riegg Cellini and Nicholas Turner, a U.S. Treasury Department economist, found that students enrolled in for-profits saw their earning potential decrease rather than increase.
After dropping out, the study explained, students typically carried debt that they wouldn't have accrued were it not for their deciding to enroll, but their status as college dropouts made it more difficult for them to actually find jobs.
Going forward, it's unclear where ITT Tech's closure will leave those with degrees from the school, but the Department of Education has said that currently enrolled students may be eligible for a discharge of their federal loans now that ITT Tech is no more.