The New York City Housing Authority is home to a population larger than Cleveland, and its residents have an average annual income of roughly $24,000. Thanks to decades of disinvestment and poor management, NYCHA needs $25 billion in repairs. Many of the authority's tenants live with mold and lead paint, and this winter, 80 percent of them suffered from heat and hot water outages during the longest stretch of below-freezing temperatures in sixty years. Mayor Bill de Blasio and Governor Andrew Cuomo are blaming each other for NYCHA's problems. Enter Ja Rule, who is joining City Council members and public housing residents at a rally on the steps of City Hall on Tuesday morning to protest the injustice that New York City's largest landlord is committing against some of its most vulnerable citizens.
"I was raised in public housing, my mom worked two to three jobs to try and feed us," Jeffrey Atkins, better known as Ja Rule, told FOX 5's Lisa Atkins at a panel on NYCHA's woes earlier this month. "I'm really upset at the fact that we're all here right now, talking about heat. It's a human right to have heat in your building that you live in."
Normally, landlords who fail to provide heat and hot water to tenants can be fined up to $500 per day. Not so with NYCHA, which has its own internal system for handling complaints.
"The government is the worst slumlord in the United States," Bronx Councilmember Ritchie Torres said during the panel.
Musing about how he would handle the crisis, Ja Rule suggested that the public housing residents file a class action lawsuit against the city, state, and federal government.
G/O Media may get a commission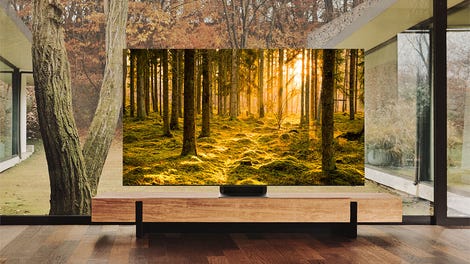 Up to 40% off
Samsung Smart TVs
"I'm getting sued right now for like $100 million for something that's way less than what y'all are going through, trust me!" he said, referring to his role in the infamous Fyre Festival.
While Governor Cuomo has threatened to declare a "state of emergency" so that his administration could force the installation of desperately needed boilers, Mayor de Blasio has pledged tens of millions of dollars and continues to support the NYCHA leader he appointed. The two have fought over the state of the subway system, the murder of a homeless woman and her two children, and a deer that ran loose in Harlem, among many other issues.
Asked recently if people who live in public housing deserve to have the same standard of living as people who live in private housing, Mayor de Blasio replied:
People in public housing deserve the very best living standard we can give them with the money we have. If you say, do I want to see a society which everyone has as much equality in their housing, in their income as possible? Yes. That's my worldview. But do I think we, in the public sector, can achieve everything that a private sector can achieve with much greater resources than the private sector? No, I don't have that illusion. Our job is to constantly do better with what we have.
Ja Rule disagrees, which is why he'll be outside City Hall on Tuesday.
"It really bothers me to fathom that we are in 2018 and we have to have these types of meetings," he said. "We're still marching for things that should be basic human rights, things that should be given to every human being."