To declare James Baldwin's words and work "otherworldly" is a reasonable temptation. It seems like there is no other public intellectual who has written about race so prophetically. In The Fire Next Time from 1963, Baldwin wrote: "To act is to be committed, and to be committed is to be in danger. In this case, the danger, in the minds of most white Americans, is the loss of their identity," words that echo eerily in 2017. But to assign a magical element to Baldwin's prescient body of work would also be to forgo what we all know to be true: that American racism is ceaseless.
Nearly a decade before his death in 1987, Baldwin began to write Remember this House, a look into American racism through the lives and assassinations of Malcolm X, Medgar Evers, and Martin Luther King Jr., three of his good friends. He only got so far as 30 pages of notes, so director Raoul Peck picked up where Baldwin left off. In his new Academy Award-nominated documentary I Am Not Your Negro, Peck weaves together the three men's deaths through Baldwin's notes. "Everything you hear are Baldwin's words," Peck said of the entire film's narration at a Harlem screening of the film on Thursday. "I didn't add a single word. It's pure Baldwin."
Baldwin didn't dedicate his life to being a preacher like King, a minister like X, or an organizer like Evers. He was a novelist, essayist, and playwright, and, in fact, once labeled an integrationist, as he writes in No Name in the Street, a book of essays. "This was never, quite, my own idea of myself," he wrote in response, neither an outright rejection nor an embrace. In a 1984 interview with the Paris Review, Baldwin said of his place in the movement next to activists like Martin, Evers, and X: "I didn't think of myself as a public speaker, or as a spokesman, but I knew I could get a story past the editor's desk. And once you realize that you can do something, it would be difficult to live with yourself if you didn't do it."
Though he gained prominence in the civil rights movement, Baldwin couldn't quite be labeled a leader or advocate. Instead, he called himself a witness. In an interview with The New York Times in 1984, Baldwin said, "In the church in which I was raised, you were supposed to bear witness to the truth," adding, "Now, later, on, you wonder what in the world the truth is, but you do know what a lie is." In that same interview, Baldwin was asked why he refers to himself as a witness. "Witness to whence I came, where I am," he said. "Witness to what I've seen and the possibilities that I think I see." As a public intellectual, Baldwin straddled the precarious line of articulating the ills of American racism without claiming to be its ameliorator. Instead, he spoke about race from personal experience as a black man. "To be a Negro in this country and to be relatively conscious is to be in a rage almost all the time," he once said. A "witness," indeed, but an active one.
Baldwin was born in 1924 in Harlem, to a single mother. At 18, he left home, in large part to get away from his stepfather, a preacher, who he did not get along with. By 24, he had secured a grant for his writing and moved to Paris, where he would live on and off for the rest of his life. It was there "that he was first able to come to grips with his explosive relationship with himself and America." The first of his six novels, Go Tell It on the Mountain, was published in 1953, when Baldwin was just 29 years old. Then came, Giovanni's Room in 1956, which explored an interracial, gay relationship. His next novel, Another Country, examined similar territory. In an interview with the Village Voice three years before his death, Baldwin demurred about how influential his writing on sexuality had been. "I made a public announcement that we're private," he said.
Though Baldwin wrote prolifically on race and sexuality, he never rested on a singular ideology like black nationalism or integration, lending his perspective on black America a timelessness. I Am Not Your Negro captures this perfectly, since, of course, his are the only words we hear. "If I'm not a nigger here and you invented him, you, the white people, invented him, then you've got to find out why. And the future of the country depends on that," Baldwin says in a clip from the film. The challenge, of course, is still relevant today.
G/O Media may get a commission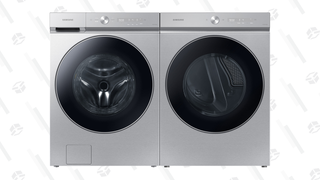 Get $500 back in credit
Last Chance: Samsung Bespoke AI Washer and Dryer Preorder
In the opening clip of I Am Not Your Negro, Baldwin sits down for a 1968 interview with talk show host Dick Cavett, who is expounding on "negro" progress. "Why aren't they optimistic?" Cavett asks Baldwin. "The real question," Baldwin responds, "is 'What's going to happen to this country?'" The camera then cuts to images of civil unrest from the last five years, most notably, images of from Ferguson, Missouri, in the wake of Michael Brown's death. "My question to myself when I started making this film 10 years ago," Peck said, was 'How do I make Baldwin available to the next generation, and make him do the same job as he did on me, changing my life?'"
As actor Samuel L. Jackson narrates Baldwin's words, the screen cuts back and forth from archived images and video to current-day America. The present flashes across the screen almost extemporaneously, a chilling experience. It bears endless repeating: Everything Baldwin wrote and said about race in mid-20th century America holds up today—and hauntingly so. Baldwin had a way of pulling out bare truths about American history. "We made a legend out of a massacre," he said of the America's founding. And it remains impossible, now more than ever, to tell if the country will ever stop buying into the legend of America, and face the massacre.
Collier Meyerson is a reporter at Fusion with a focus on race and politics. She lives in Brooklyn.