British comedian James Corden made his debut as host of CBS' Late Late Show on Monday, promising at least one big change to the familiar U.S. late-night talk show format before he even started.
"We're gonna bring all our guests out at the same time, so all of our guests will sit together for all of the chat segments of the show," Corden told KPCC last week.
Here's what interviews on the new Late Late Show look like. Can you tell what's missing from this picture?
That's right: a desk, the unsung sidekick of just about every late-night talk show host in American history. During interviews, Corden sits in an office chair to the left of his guests (above, Kevin Hart and Will Ferrell), who all share a couch. This literally puts him on the same level as the celebrities, theoretically allowing for more casual, more intimate conversation. It's also — at least to me — a little jarring.
G/O Media may get a commission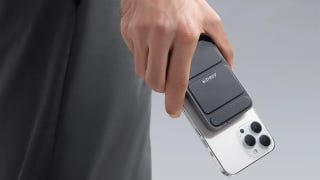 15% off
15% off Anker Top Ten Products
Take charge
Treat yourself to a portable power bank, a magnetic wireless battery for iPhones, or even a solar generator. There is a reason these are in the top ten. For instance, the Anker 747 Power Bank is a 4-in-1 charger utilizing USB-A and USB-C to be capable of charging up to four devices at once. Great to take with you when traveling and in need of keeping your phone, laptop, and even Nintendo Switch powered on.
Interviewing without a desk, as well as inviting multiple celebrities on stage at once, is an intentional homage to iconic U.K. chat show host Graham Norton. On The Graham Norton Show, there is no desk. Norton sits to the left of his guests, who share a single long couch.
Believe it or not, Corden's set design is downright subversive. In the U.S., all network talk shows are virtually identical (it doesn't help that they're universally helmed by white dudes). The host sits behind a dark wood desk, to the right of his celebrity guest, who sits on an armchair adjacent to a matching but separate couch. It's uncanny.
For your consideration, The Tonight Show Starring Jimmy Fallon on NBC:
The Tonight Show With Jay Leno (succeeded by Fallon in 2014):
Late Night With Seth Meyers on NBC:
Late Show With David Letterman on CBS:
Jimmy Kimmel Live! on ABC:
The Late Late Show With Craig Ferguson, Corden's predecessor:
Last Call With Carson Daly technically counts as a late-night network talk show, but only technically: Daly just tapes the opening and closing segments, and in interviews, the subject appears alone on camera.
Considering it airs on TBS, Conan doesn't technically count as a late-night network talk show, but given that it was painstakingly created to resemble one, we're giving it a pass:
On late-night cable, things get more interesting. On E!'s Chelsea Lately (which aired its finale last August), Chelsea Handler and her guest sat in matching armchairs. As with network shows, the host is on the right.
The late, great Colbert Report — conceived more in the model of the cable news shows it satirized than traditional late-night comedy programming — had Stephen Colbert deliver the news at a desk before joining his interviewee at a round table.
On The Daily Show, Jon Stewart spends the entire show behind a desk, at which his guest ultimately walks out to join him. Both Colbert and Stewart invariably sit to the right of their guests.
Bravo's raucous Watch What Happens: Live has perhaps the most unique set of any American late-night show. Not only does host Andy Cohen lack a desk, but he sits to the left of his guests. (And this is to say nothing of the on-stage bar.)
Late-night panel shows — The Nightly Show With Larry Wilmore, Red Eye, and Real Time With Bill Maher — are notable outliers. For obvious reasons, they feature large tables to accommodate each episode's participants.
On the other end of the spectrum, John Oliver infrequently entertains in-studio guests on Last Week Tonight, but he nevertheless sits alone behind a desk befitting any traditional late-night host.
This isn't to suggest that James Corden has totally abandoned conventional American talk show design in favor of British influences. In fact, he's negotiated something of a transatlantic compromise.
For one thing, Corden does sit behind a desk when he delivers the short-form bits known in late-night parlance as "desk pieces."
See also: the sofa. Though Late Late Show guests aren't physically separated the way they would be in most U.S. talk-show setups, the couch's unusual, discrete oval cushions still serve to visually partition them.
It's possible that these subtle design concessions are Corden's version of a life raft for skeptical U.S. viewers. We'll have to wait and see if they'll climb aboard.
Molly Fitzpatrick is senior editor of Fusion's Pop & Culture section. Her interests include movies about movies, TV shows about TV shows, and movies about TV shows, but not so much TV shows about movies.