As if we needed any more reason to despise Donald Trump's son-in-law and senior adviser Jared Kushner, an investigation by The New York Times has revealed that despite being worth hundreds of millions of dollars, Kushner paid "little or no federal income taxes" for nearly a decade.
The report follows another recent bombshell investigation by the newspaper that found that Trump and his family had accumulated hundreds of millions of dollars in wealth from "dubious tax schemes" and "outright fraud." Good thing Republicans gave the Trump family and others like them (read: rich white people) even more tax cuts to help them generate additional wealth, because they really, really need it.

According to the latest report, Kushner doesn't appear to have broken any laws with his tax-dodging. Rather, he took advantage of loopholes that allowed him to claim real estate losses on paper without having actually lost any money. He did this for at least five to eight years, according to tax documents obtained by the Times.

"In theory, the depreciation provision is supposed to shield real estate developers from having their investments whittled away by wear and tear on their buildings," the Times reported. "In practice, though, the allowance often represents a lucrative giveaway to developers like Mr. Trump and Mr. Kushner."

The documents the Times reviewed covered 2009-2016 and were examined by 13 prominent tax accountants and attorneys. For five of those years, the experts determined that Kushner paid "little or no federal income taxes," and he probably didn't pay much for the other three years, either.

G/O Media may get a commission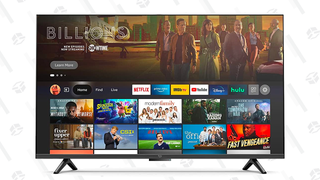 22% off
Amazon Fire TV - 50" Omni Series 4K - Early Access Deal
Kushner's net worth, by the way, is about $324 million, according to the Times.

Also of note, the president's son-in-law was able to declare the losses on his properties despite having purchased them with loans. That means that "Mr. Kushner is getting tax-reducing losses for spending someone else's money, which is permitted under the tax code," the report said.

Both Kushner and his wife, Ivanka Trump, have continued to earn millions of dollars while serving as senior advisers in Donald Trump's White House. According to a report last June, the two earned $82 million in outside income in 2017. Their current combined assets are probably well over half a billion dollars.

Meanwhile, in addition to his finances, Kushner is taking heat for his ties to Saudi Crown Prince Mohammed bin Salman, who agreed to buy billions of dollars worth of arms from the U.S. during the first official trip abroad by Trump and members of his administration. Kushner brokered the deal.

Bin Salman is suspected of being behind the recent alleged kidnapping and killing of journalist Jamal Khashoggi at the Saudi Consulate in Istanbul. According to Turkish investigators, the Saudi government sent a 15-man hit squad to Turkey to kill and dismember Khashoggi's body inside the consulate.

Kushner also is suspected of helping bin Salman carry out an "anti-corruption" purge last November. Bin Salman claimed at the time that Kushner gave him names of Saudis who were "disloyal" to bin Salman, according to The Intercept.

As if that weren't enough, Kushner also is a notoriously shitty landlord. In March, an investigation by the Associated Press found that the Kushner family business "routinely filed false paperwork with [New York City] declaring it had zero rent-regulated tenants in dozens of buildings it owned across the city when, in fact, it had hundreds." Former tenants of those buildings say they were subjected to constant harassment and then pushed out, while Kushner's business quickly flipped the properties and made tens of millions of dollars.

A 2017 investigation by The New York Times and ProPublica found that Kushner's companies aggressively hounded working-class tenants over small amounts of rent and supposedly "broken" leases. The report documented widespread neglect in the upkeep of units, including one woman who had maggots in her living room carpet and raw sewage coming out of her kitchen sink.