In a move that voting rights advocates have predicted for months, the Department of Justice on Monday reversed course on a major voting rights case in Texas.
The issue at stake is a 2011 law that requires voters to show identification from a narrow list of acceptable documents: a state driver's license or state ID card, a US passport, a military ID, a citizenship certificate with a photo, a concealed handgun license, or something called a Texas Election Identification Certificate.
Supporters of the law, like Republican Gov. Greg Abbott, say it is necessary to prevent voter fraud, a problem that simply does not exist in the United States. Opponents of the law, including the NAACP, ACLU, and local civil and voting rights organizations, have argued, successfully, that the law discriminates against voters of color, who are less likely to have one of the acceptable forms of ID.
The Republican-backed law has been through several rounds of legal challenges, most recently a federal court decision that found it had a discriminatory effect against black and Latino voters and violated the Voting Rights Act.
Under the Obama administration, the DOJ backed that finding. On Monday, under the leadership of Attorney General Jeff Sessions, it dropped its claim in a pending legal challenge against the law.
G/O Media may get a commission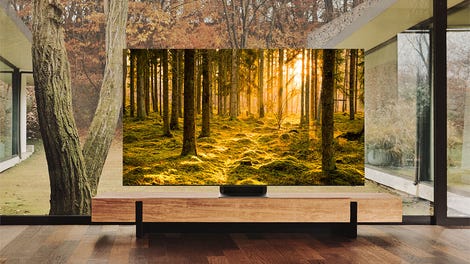 Up to 40% off
Samsung Smart TVs
As Talking Points Memo reports:

"This signals to voters that they will not be protected under this administration," said Danielle Lang, the deputy director of voting rights at the Campaign Legal Center, which is challenging Texas' law in court.

The reversal, on the eve of a key hearing in the case, is a clear sign of the DOJ's direction under Attorney General Jeff Sessions—a longtime advocate of voter ID laws and other voting restrictions. The department signaled its intentions last week when it joined with the state of Texas to ask the court to hold off on judging the constitutionality of the law until Republican lawmakers can modify it. The court rejected this request.

Lang told TPM that the DOJ reached out Monday morning to her and the other voting rights groups fighting the law to notify them of their new position.

On Tuesday, DOJ lawyers will appear before U.S. District Judge Nelva Gonzales Ramos and inform her that the federal government is dismissing its claim that the voter ID law was crafted with a discriminatory intent.
Lang said the plaintiffs in the case will continue to challenge the law, with or without the Justice Department's support.
The fight, and the stakes, remain the same. Or as Deuel Ross, assistant counsel at the NAACP Legal Defense Fund, told me last month, whoever's in the White House doesn't change their core mission in cases like these.
"States have a lot more free rein in passing these laws, and the reality is that whoever the president is, states are always finding new ways to discriminate against voters of color," he said. "It's nice to have the Department of Justice on our side, but it's not necessary. It doesn't change the nature of the work we do."