"You've got to stop letting other people define you," Paige tells Violet in the penultimate scene of the first season of Her Story, a web series about two trans women and the many worlds they navigate in L.A. It's valuable advice for Violet, who, in a moment of insecurity, had asked Paige whether dating another woman would make her "less of one." But for Jen Richards, the co-creator of Her Story who plays Violet on the show, it's also a mission.
"When you see trans people onscreen, it's usually [written] from other people's perspective of us," Richards said in a phone interview. "[Her Story is different because] it stars trans women. It's directed by a trans woman. It's written by trans women. It has a level of nuance and insight that you don't get to see often… And in trying to achieve the particular, we ended up stumbling on something universal that a lot of people found they could identify with."
"That was gratifying," she added.
Many TV viewers first met Richards thanks to a string of appearances she made throughout the first season of I Am Cait, the E! channel reality show about Caitlyn Jenner's life post-disclosing her trans identity to the nation. For those who missed the introduction, feel free to skip straight to Her Story, which the Mississippi-born, Chicago-raised Richards co-wrote and co-produced alongside Laura Zak, who plays Allie on the show.
Her Story was met with soft but enthusiastic acclaim upon its premiere last January. Writing in The Advocate, Mari Brighe called the YouTube-hosted web series "groundbreaking," while Autostraddle's Mey Rude dubbed it "one of the most authentic depictions [of trans women] ever." Six months later, Her Story surprised Hollywood and the industry reporters who cover it by picking up an Emmy nomination for Outstanding Short Form Comedy or Drama Series. Richards was just as surprised, she told me, since YouTube shows weren't even eligible for the Emmys back when she and Zak filmed it. Her Story ultimately lost to Adult Swim's Childrens Hospital. But the nomination alone was a win for trans storytelling in the mainstream, for reasons underscored during Jill Soloway's Primetime Emmys acceptance speech a week later, when the Transparent creator called the act of centering historically marginalized perspectives "a revolution."
G/O Media may get a commission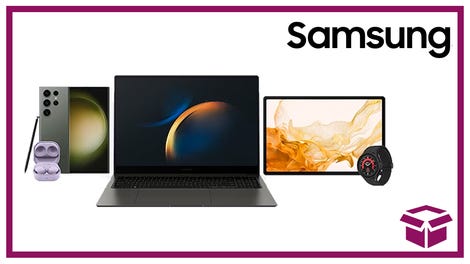 24 hour deals
Discover Samsung - Daily Deal
"[Her Story is] often called revolutionary, but the irony is that it's not very revolutionary in terms of its concept. It's a meet cute!" Richards told me. "[Still,] I absolutely think of it as an act of revolution. Storytelling is how we see ourselves… TV has been a huge force for dehumanizing trans women for many years. It also has the power to humanize them… I've received letters from people who said that it was the first time they saw themselves reflected in a positive light, the first time they saw themselves as worthy of love and respect. It gives them hope and strength to continue on and advocate for themselves."
Jen couldn't say when we might get more of Her Story, but fans will be able to catch her on TV this January thanks to a recurring role on country music melodrama Nashville. The show, which hopped from ABC to CMT following a brief cancellation, finds Richards, a longtime country music listener herself, in the role of Allyson Del Lago, a physical therapist who is also trans.
"If you were to ask me which show would have a recurring trans character, I wouldn't have said Nashville," she said. "I wouldn't have said any show on CMT. I think too often the way we talk about social issues or talk about queer culture, it's [as if] trans people only exist in big cities. But trans people show up everywhere, across all cultures. There are trans people in the South, there are trans people in rural areas, there are trans people in Nashville! I think that's a huge step forward in showing that [trans is] not just an 'L.A. thing' or a 'New York thing.' Trans is a human thing. [Showing that on Nashville] is really meaningful, especially in areas where trans people don't get to see themselves too often."
Richards, who has been extremely vocal about the ongoing practice of casting cis male actors in roles that could have gone to trans women, feels "honored and humbled" to play a role in increasing trans representation on TV. But, she insists, increasing visibility is only step one. Diversity cannot end with casting, she said. It needs to extend at least as far as the writers' room, if not beyond.
"A lot of [writers' rooms are filled with] white people writing about diversity without actually living with diversity in their personal lives. When you don't have the experience of talking across difference, of working across difference, you'll only know how to portray it visually [through casting]," she told me, noting that friendships and relationships across difference lie at the core of Her Story. "Cultural change and entertainment are not mutually exclusive. That old-guard critique of being "too politically correct" is such a non-issue. We're just trying to reflect our world. If you think [that world] is too politically correct, it tells me that we're not sharing the same world."
Bad at filling out bios seeks same.