The reactionary empire built by the late televangelist Jerry Falwell includes the Thomas Road megachurch in Lynchburg, VA, as well as Liberty University. His son Jerry Falwell Jr., on the other hand, makes Danny McBride's character in the Righteous Gemstones look like a functioning member of society by comparison.

Politico dropped a giant story on Monday featuring Jerry Jr., who has been a vocal supporter of the decidedly not-very-godly Donald Trump since his presidential campaign, and the comically evil and corrupt bullshit the Falwell family has involved itself in. The whole (long) thing is worth a read, because it's just one hit after another of rich people fucking up, with the added bonus of their grift being evangelical Christianity.
Writer and Liberty graduate Brandon Ambrosino said he spoke to more than two dozen Liberty officials or Falwell associates for the piece, and describes "concerns about Falwell's behavior" as causing them to "rapidly lose faith in him." These "concerns"—which, it should be noted, have not caused Falwell to lose his job yet—include an apparent culture of fear that Jerry Falwell has created at the university. One source Ambrosino talked to who currently works at Liberty only agreed to speak after purchasing a burner phone—fearing that Falwell was monitoring their communications—and another described it as a "dictatorship," saying that "nobody craps at the university without Jerry's approval."
But some of those concerns are more or less about Jerry Falwell allegedly being a huge horny dumbass:

At Liberty, Falwell is "very, very vocal" about his "sex life," in the words of one Liberty official—a characterization multiple current and former university officials and employees interviewed for this story support. In a car ride about a decade ago with a senior university official who has since left Liberty, "all he wanted to talk about was how he would nail his wife, how she couldn't handle [his penis size], and stuff of that sort," this former official recalled. Falwell did not respond to questions about this incident.
G/O Media may get a commission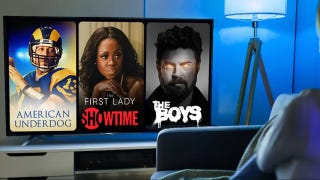 UNDER $1
99¢ Prime Video Channels
This alleged horniness resulted in a Michael Scott Sandals Jamaica-level fuck-up:
Falwell intended to send the image to his and Becki's personal trainer, Ben Crosswhite, as a "thank you" for helping his wife achieve her fitness goals, the employee said. In the course of texting, Falwell accidentally sent the message to several other people, necessitating a cleanup.

In a statement, Falwell denied this. "I never had any picture of Becki Falwell dressed in a French maid uniform, and never sent such a non-existent photo to Ben Crosswhite."
Speaking of Becki Falwell, Politico obtained an email in which she once ratted out a Liberty University loan servicer for the unforgivable crime of...complaining about parking on campus. Emphasis mine:
"Until Big Jerry died, you wouldn't have known [Becki] if she walked up and slapped you," said a former longtime Liberty official. "Big Jerry dies, and all of a sudden, [if] you're walking down the hall and you didn't greet her right, you're fired." As if to underline this point, one longtime university employee shared a 2012 email in which Becki contacted four school executives at 7:06 p.m. to complain that a low-level university employee had posted a Facebook status on her personal account criticizing a lack of adequate parking on campus. "Someone needs to talk to this girl. I don't think that we allow employees to post negative remarks about Liberty," Becki wrote to the school officials in a message that included a screenshot of the employee's post. Shortly before 9:00 p.m., one senior official replied, "We are attempting to call her at home right now." The woman in question did not respond to requests for comment, but according to her Facebook profile, she is no longer an employee of Liberty University.

Just enormously shitty people through and through.
Aside from being unable to conceal his boners and terrifying his employees, Falwell has also allegedly used Liberty's vast resources for a much more conventional grift: further enriching his friends and family. Politico reports that Falwell's son, Trey—a vice president at the school—started a privately-owned company which manages a Liberty-owned shopping center in Lynchburg. Politico also reported, according to "multiple current and former university officials," that Trey Falwell was the silent partner in a La Quinta Inn in Lynchburg. (Falwell Jr. denied having a business interest in the La Quinta hotel; Trey Falwell didn't respond to requests for comment.)
There's also a bunch of shady loan dealings involved as well as Falwell apparently pushing his brother out of the university almost entirely, but really, you should just read the whole thing for yourself (and the Lord) here.