On Monday morning, former New York Times executive editor Jill Abramson delivered her commencement address to the Wake Forest University class of 2014.
Despite her recent high-profile termination from the newspaper, Abramson did her best to honor the graduates. "I think the only real news here today is your graduation from this great university," Abramson said.
Still, in speaking to the graduating class about the importance of resilience, the speaker admitted the firing "hurt."
But hey, at least Abramson showed up. Not every planned commencement speaker received the warm reception of the university that invited them.
G/O Media may get a commission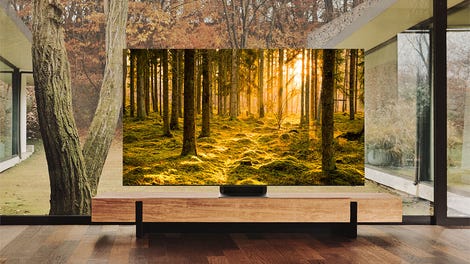 Up to 40% off
Samsung Smart TVs
At other major undergraduate institutions—namely, Rutgers University, Haverford College and Smith College—commencement speakers declined to appear due to opposition by on-campus activists.
The list of dropout commencement speakers includes former U.S. Secretary of State Condoleezza Rice, former chancellor of Berkeley Robert Birgeneau, and International Monetary Fund Chief Christine Lagarde.
Particularly in the IMF Chief's case, opposition grew from criticism of the institution rather than the individual.
In Abramson's case, the institution is facing more scrutiny over her termination than she is. Perhaps this helped Abramson slide comfortably behind the Wake Forest lectern Monday morning.
She leveled with the graduates: "What's next for me? I don't know. So I'm in the same boat as many of you. And like you, I'm a little scared, but also excited."
Andy is a graphics editor and cartoonist at Fusion.