Jill Abramson spoke at the Wake Forest Class of 2014 Commencement Monday morning, in her first appearance since being fired as executive editor of the New York Times last week.
"My only concern in showing up today was that the small media circus following me would detract attention from you," Abramson said in her speech titled "The Importance Of A Truly Free Press."
But the focus of the speech was mostly about the importance of resilience. "I'm talking to anyone who has been dumped," Abramson said. "You know the sting of losing, or not getting something you want badly. When that happens, show what you are made of."
"What's next for me? I don't know," Abramson said. "So I'm in exactly the same boat as many of you. And like you, I'm a little scared but also a little excited."
Abramson also revealed three crucial facts about herself:
1. She uses Apple's web browser Safari.
2. She will not get the New York Times "T" tattoo on her back removed. "Not a chance," she said.
G/O Media may get a commission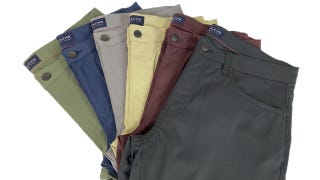 JACHS NY Fall Stretch Tech Pants
3. She is pen pals with Anita Hill. "Anita is one of the people that wrote me last week to say they're proud of me," Abramson said.
Keeping with the themes of resilience, Abramson said that she admires Hill for turning humiliation into power after being being called "a little bit nutty and a little bit slutty*."
Bloomberg columnist and Wake Forest graduate Al Hunt introduced Abramson. "It is said she could be tough, no nonsense, even pushy in her passionate commitment to truth and accountability, no matter rank or party, that is what makes her a good editor," he said.
*It's unconfirmed if this was the first time the word "slutty" was used in a commencement speech.