Ohio Congressman Jim Jordan isn't about to let multiple allegations that he willfully ignored horrific incidents of sexual assault while an assistant college wrestling coach stop him from tossing his name in the hat to become the next Speaker of the House.

Jordan, who has spent the past month denying he turned a blind eye to former Ohio State University physician Dr. Richard Strauss' alleged sexual abuse of athletes under his care, announced on Thursday his intent to run for speaker in November, assuming Republicans retain control of Congress. (Current speaker Paul Ryan announced his retirement in April.)
"Our clear mandate will be to continue working with President Trump to keep the promises we made," Jordan wrote in a letter to his colleagues declaring his interest in the position.
Jordan, and the ultra-right wing Freedom Caucus he founded, has been one of the president's staunchest supporters on Capitol Hill—a favor seemingly repaid by Trump, who earlier this month called Jordan "one of the most outstanding people I've met since I've been in Washington" when questioned about the allegations of sexual assault at OSU.
G/O Media may get a commission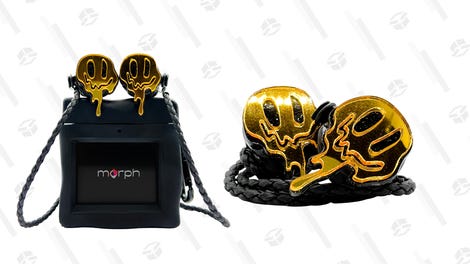 morph audio
Morph Earphones
Should Republicans maintain their control of the House, Jordan will likely face several other high-profile GOP members for the speakership. Earlier this week, House Majority Leader Kevin McCarthy declared he wanted the next speaker "to be me." GOP Whip Steve Scalise has also been rumored as a potential candidate.
Earlier this month, Jordan admitted he'd been interviewed by a law firm hired by OSU to investigate decades worth of sexual assault allegations made against Dr. Strauss, insisting that "no one reported anything to us." However, eight people in total have so far alleged that Jordan knew about Strauss's abuse. At least one former OSU wrestler claimed that he'd not only told Jordan about having been assaulted, but that Jordan had "just snickered" in response.

If Jordan does win the race in November—and that's a large "if"—he will hardly be the first GOP speaker to face allegations of having been connected with grotesque sexual misconduct. In 2015, former Republican speaker Dennis Hastert was charged with financial crimes stemming from hush money payments he'd made to a man he'd allegedly sexually abused decades prior. He subsequently pleaded guilty to the financial charges, and served more than a year in prison.