Welcome to WHAT NOW, a morning round-up of the news/fresh horrors that await you today.

In a charged monologue on Monday night, Jimmy Kimmel fought back tears while discussing the Las Vegas shooting, which left at least 59 dead and more than 527 other concertgoers wounded on Sunday.
We still don't know what motivated Stephen Paddock to shoot nearly 600 people attending a music festival from the 32nd floor of a Las Vegas resort and casino, but we are starting to learn the identities of his victims. They include Sonny Melton, 29, of Tennessee, who saved his wife's life by sheltering her body from gunfire; Sandra Casey, a special education teacher in Manhattan Beach; and Bailey Schweitzer, who was 20 and watching some of her favorite bands at the festival before she was murdered.
"This morning, we have children without parents and fathers without sons, mothers without daughters," Kimmel said, visibly choking up. "It's the kind of thing that makes you want to throw up or give up. It's too much to even process—all these devastated families who now have to live with this pain forever because one person with a violent and insane voice in his head managed to stockpile a collection of high-powered rifles and use them to shoot people."
Kimmel also highlighted the identities of the members of Congress who voted to ease restrictions on Americans owning high-powered weapons, in line with the National Rifle Association's agenda, saying the pro-gun organization "has their balls in a money clip."

G/O Media may get a commission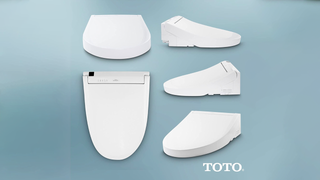 44% off
Toto Washlet Electronic Bidet Toilet Seat
"There are a lot of things we can do about it. But we don't, which is interesting," he said. "Because when someone with a beard attacks us, we tap phones, we invoke travel bans, we build walls, we take every possible precaution to make sure it doesn't happen again. But when an American buys a gun and kills other Americans, then there's nothing we can do about that."
WHAT ELSE?
More details are emerging about the circumstances surrounding the Las Vegas shooting, including the fact that Paddock apparently managed to bring 23 weapons, including a handgun and multiple rifles spread across 10 suitcases, into his hotel room. He bought the guns legally, passing all required background checks, the Los Angeles Times reported.

Donald Trump's administration is reportedly weighing an executive order to direct federal agencies to review social welfare programs, which can't possibly go well.
The administration is also backing a 20-week abortion ban up for a vote this week in the House.
WHAT'S NEXT?

Trump is heading to Puerto Rico this morning with his wife Melania to survey the damage of Hurricane Maria. He heads to Las Vegas tomorrow.
For more news from Splinter, follow us on Facebook.