With his heartfelt and earnest responses to Trump's attempts to appeal to Obamacare and the fatal shooting in Las Vegas, Jimmy Kimmel has set himself apart from his late night brethren. But while he may be America's favorite current woke patriot because of his monologues and also because he didn't personally bring out Sean Spicer at the Emmys or kiss Sean Spicer after the Emmys, Kimmel still has some questionable opinions. Particularly about late night television.
In an interview with Vulture (in which he also says that they should bring back The Man Show because PC culture would make it a bigger hit), Kimmel discusses why late night television is dominated by white men:
There are biases…
Great answer!
…But somebody's going to come along. The fact of the matter is there are many women who could've had late-night network talk shows if they wanted to.
Uh, pardon?
You know that?

Yes, and there are many African-Americans who could have late-night talk shows if they wanted. If Chris Rock wanted a talk show, he would have one. If Amy Poehler had wanted one or Tina Fey had wanted one, they would have one.
G/O Media may get a commission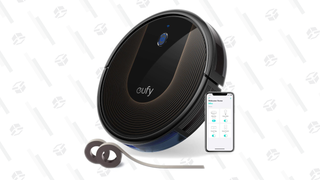 48% Off
Eufy BoostIQ RoboVac
Hmmm…
But the question is not whether Chris Rock or Tina Fey could get one. The question is whether the non-white-guy equivalent of who you were in 2003 could get one.

I know what you mean. I think the market always decides, and when somebody great comes along, everybody's going to go, Oh, yes, that's what we should do. And by the way, everyone seems to forget Arsenio Hall, who was on for six years and was quite popular. There was a guy who probably had more people watching him than all of us combined right now.
So women and people of color are to blame for not being able to score a late night show because they simply don't want it enough. But if they do want it, they better already be some of the most successful women and people of color of all time. Also one time in the 90s, Arsenio Hall had a really successful show, so the biases can't be that bad, and the fact that "everyone forgets" definitely has nothing to do with bias at all. (Also, interestingly enough, Chris Rock is getting into late night television, serving as co-executive producer for the only late-night talk show hosted by a black woman, The Rundown with Robin Thede. )
Got it. Thanks, Jimmy!
You're considered an avatar for the "average" white guy at a time when "average" white guys are being held up as the problem.

There's nothing more disgraceful than being a middle-aged white man. We should all be very ashamed of ourselves.
Haahha
Is that totally wrong, though?

It's stupid. As you might imagine, I was born with a penis to white parents. There's not much I can do about it.
He's not going to All Lives Matter this, is he?
If you're against discrimination, you should be against all discrimination.
He did. Jimmy Kimmel just All Lives Mattered all over himself.