Jimmy Kimmel's recent slew of political monologues has earned him a new moniker of sorts: late night TV's moral compass. But if his criticisms of Republican efforts to gut health care and their reluctance to ditch the NRA have cost him viewers from the Grand Old Party, Kimmel hasn't lost sleep over it.
"Three years ago I was equally liked by Republicans and Democrats," Kimmel told CBS News host Tracy Smith. "And then Republican numbers went way down, like 30% or whatever. And, you know, as a talk show host, that's not ideal."

But Kimmel's genuine concern over potentially catastrophic polices and their arbiters was necessary. "I would do it again in a heartbeat," he added before stopping just shy of ensuring a Republican never watches his show again.

"I'd love for everyone — I want everyone with a television to watch the show," he said. "But if they're so turned off by my opinion on health care and gun violence, then I don't know. I probably won't want to have a conversation with them anyway."

G/O Media may get a commission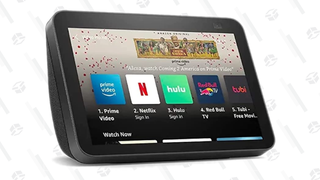 Separately, Kimmel told The New York Times on Sunday that Trump's atypical presidency (his suggestion, not mine), spurred his drift into politics. "Some things are more important than bringing in a big audience," Kimmel said. "I hope that we, as a nation, get back to a time where I can have a normal, well-rounded show, that's more focused on Beyoncé and Jay-Z than Donald and Ivanka."

Kimmel's newfound political conscience, however, leaves much to be desired. Last week, Kimmel nonchalantly minimized the sheer depravity of Trump's presidency and suggested a visit on his show might set the president on a different path. If only Trump were surrounded by better people, Kimmel said including himself in that group, perhaps he would be more "presidential." But Trump is not simply a misguided businessman surrounded by self-serving sycophants — he's sincerely bigoted, intolerant, and, as my colleague Katherine Krueger said, "irredeemable."