Welcome to WHAT NOW, a morning round-up of the news/fresh horrors that await you today.

In a heated segment on Tuesday, Jimmy Kimmel said that one of the senators who is now at the center of the latest Republican-led effort to repeal the Affordable Care Act had "lied right to my face" when he promised to deliver a better bill in an earlier appearance on Kimmel's show.
Kimmel was referencing an emotional monologue he made in late May about the horrors of navigating his infant son's health crisis in the byzantine American healthcare system. That speech came during an earlier effort to repeal the ACA. Kimmel had Louisiana Sen. Bill Cassidy on the show later that week, where Cassidy said he would only support a bill that would pass the "Jimmy Kimmel test," which the late night host summarized as: "No family should be denied medical care, emergency or otherwise, because they can't afford it."
On Tuesday night's show, Kimmel rolled back the tape of him asking Cassidy if he believes every American should have access to regular checkups and preventative medical care, to which Cassidy sheepishly responded, "Yep."
"So 'yep' is Washington for 'nope,' I guess," Kimmel dead-panned. "This guy, Bill Cassidy, just lied right to my face."
G/O Media may get a commission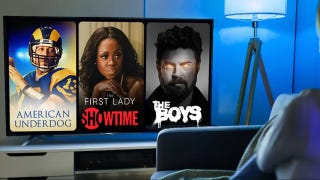 UNDER $1
99¢ Prime Video Channels
He went on to talk about how Cassidy and fellow Sen. Lindsey Graham's current healthcare bill would force some 30 million Americans off their health insurance and allow states to decide how much your preexisting condition should cost and whether people should be subject to a "lifetime cap" on the cost of care.
"This new bill actually does pass the Jimmy Kimmel test, but a different Jimmy Kimmel test. With this one, your child with a preexisting condition will get the care he needs—if, and only if, his father is Jimmy Kimmel. Otherwise, you might be screwed," he also said.
Kimmel continued: "Sen. Cassidy, you were on my show, you seem like you're a decent guy. But here's the thing: Nobody outside of your buddies in Congress wants this bill."
And if Cassidy won't stop trying to cram another awful healthcare bill down Americans' throats?
"Stop using my name, OK? Cause I don't want my name on it," Kimmel concluded.
After the show, Cassidy released a statement responding to Kimmel's monologue saying basically that Congress is on the clock and so the bill must pass:
WHAT ELSE?
Health and Human Services Secretary Tom Price took a staggering five flights on chartered private jets between Sept. 13 and 15, costing taxpayers tens of thousands of dollars more than flying commercial, Politico reported.
The Democrats are mounting an effort to get more women attorneys general into office, with the goal being to make sure at least half of the party's top lawyers are woman within five years.
For more from Splinter, follow us on Facebook.