The Oscars were weird this year–and not just because of that jaw-dropping La La Land/Moonlight Best Picture mix-up.
No, the awards show also reached an uncomfortable pitch in the hands of host Jimmy Kimmel, who seemed to feel the usual imperative to be topical and something approaching edgy but without managing to hit on anything politically impactful. So Kimmel chose some neutral ground to play to a largely white room of industry insiders: casual racism!
Let's go through some examples, shall we?
First, there were repeated moments where Kimmel made fun of the names of people of color.
After Mahershala Ali became the first Muslim actor to win an Academy Award, winning Best Supporting Actor honors for Moonlight and giving a tear-jerker acceptance speech where he thanked his wife, who just gave birth days earlier–Kimmel thought it was the right moment to mock Ali's name, asking if the couple named their new child something "normal," like Amy.
Yes, because moments after a black Muslim wins the Oscar for a heartbreaking, deeply felt film about coming of age as a black man in America is definitely the right time to joke about what names are "normal" (read: typically white).
G/O Media may get a commission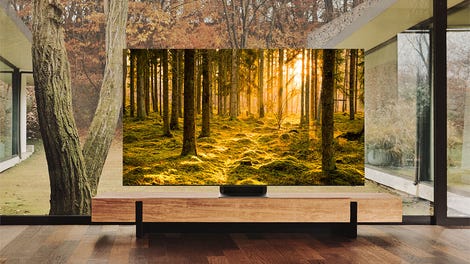 Up to 40% off
Samsung Smart TVs
It didn't stop there. During a bizarre bit involving bringing a Los Angeles tour group on stage and forcing them to have contrived interactions with celebrities, an Asian woman introduced herself as Yulerie, which she reflexively clarified "rhymes with jewelry" when Kimmel starting tripping over it.
When her husband introduced himself as Patrick, Kimmel jabbed, "See, that's a name, all right." Cool!
You can watch the whole painful, drawn-out bit here:
Kimmel also insisted on recreating an iconic scene from The Lion King with the eight-year-old Indian star of Lion, which seems like about as much workshopping as that joke got in the almost certainly lily-white writer's room (Lion and Lion King, cute kid, get it).
Set aside what a massive achievement it is for Sunny Pawar to be sitting at the Oscars for his work in an acclaimed film before he's tall enough to ride most roller coasters and feast your eyes on the raw tone-deafness of a wealthy white man using a brown child as an animal-prop.

I wasn't going to post this video of Jimmy Kimmel and Sunny Pawar… until Sunny yelled "LEMONHEADS AND MIKE AND IKES." pic.twitter.com/vQcUov4FFz

— BuzzFeedEntmnt (@BuzzFeedEnt) February 27, 2017
Absolutely no. Let's do better in 2017, white people.