The open-air Tent City Jail made infamous by ousted Maricopa County, AZ, Sheriff Joe Arpaio was officially shut down this weekend, more than two decades after the controversial complex first opened its doors.

The facility, which this summer housed some 350 inmates in sweltering 110-degree heat, quietly relocated its final 17 prisoners on Saturday evening, AZcentral.com reported on Monday night. The facility's closure had been announced in April by Sheriff Paul Penzone, who ousted the incumbent Arpaio in November.
At the time Penzone told reporters: "This facility is not a crime deterrent, it is not cost efficient, and it is not tough on criminals."
The jail was originally opened in 1993 to address overcrowding in Maricopa County's brick and mortar facilities. In subsequent years, Arpaio would force inmates to wear pink underpants while incarcerated there. As temperatures soared in the Arizona desert, Arpaio famously told those who decried the jail's inhumane condition, "it's 120 degrees in Iraq and the soldiers are living in tents and they didn't commit any crimes, so shut your mouths."

In a statement on the jail's closure, Sheriff's office spokesman Mark Casey was eager to put the Tent City's cruel legacy behind him.
G/O Media may get a commission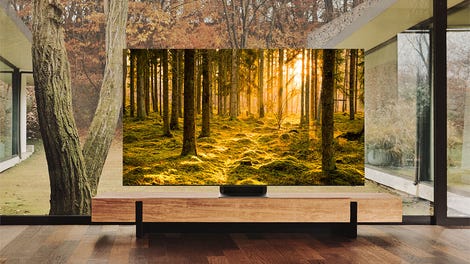 Up to 40% off
Samsung Smart TVs
"This agency is moving on," Casey explained to AZcentral.com "There's been way too much attention/obsession with Tents at the expense of more important issues facing MCSO and the people we serve. Tents and pink underwear are a tired, dated, narrative."
In addition to its horrific reputation for abuse, the jail was estimated to have cost taxpayers over $8.5 million last year. By closing it, Sheriff Penzone insisted, the county would save approximately $4.5 million dollars per year.
Arpaio himself seemed resigned to the fate of his penal brainchild, telling AZcentral, "It's been a great program and I stick by it."
Arpaio was convicted of criminal contempt of court last spring after refusing to end longstanding racist police tactics in Maricopa County. In August, he was granted a full pardon by President Donald Trump.

Maricopa County officials have yet to announce plans for the Tent City's soon-to-be empty land.