Comedian Joel McHale, famous for his role in NBC's "Community" and as the host of E!'s "The Soup," told jokes last night at the White House Correspondents Dinner.
I thought his performance was funny, but not laugh-out-loud funny. Others had widely varying opinions as to whether he was hilarious or awful. One thing is for sure, he didn't pull any punches against the targets of his jokes.
Watch here:
Here are some of his most devastating lines:
On Obama:
"Mr. President—or, as Paul Ryan would call you, another inner city minority taking advantage of the federal government to feed and house your family."
G/O Media may get a commission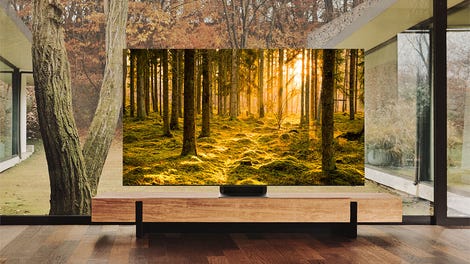 Up to 40% off
Samsung Smart TVs
"My favorite bit of yours is when you said you'd close the detention facility at Guantanamo Bay. That was hilarious."
"Just because Morgan Freeman has played the president a few times, doesn't mean you have to look exactly like him."
On Chris Christie:
"I promise tonight will be amusing and over quickly, just like Chris Christie's presidential bid."
"Governor, do you want bridge jokes or size jokes? Because I've got a bunch of both. I could go half and half. I know you like a combo platter."
On Joe Biden:
"It's crazy to think that Joe Biden is only one heartbeat away from no one taking him seriously as president."
On CNN:
"CNN is desperately searching for something they've been missing for months: their dignity."
On Republicans:
"E! is also home to the Kardashians, who, believe it or not, are Republicans. And I know that because they're always trying to screw black people."
On Healthcare.gov:
"The launch of Healthcare.gov was a disaster. It was so bad. I don't even have an analogy because the website is now the thing people use to describe other bad things. They say things like, 'I shouldn't have eaten that sushi, because I was up all night Healthcare.gov-ing.'"
On Nancy Pelosi:
"I'm not going to spoil the surprise on 'House of Cards,' but just know that it was so shocking that Nancy Pelosi's face its expression."
On Fox News:
"Bill O'Reilly, Megan Kelly and Sean Hannity are the Mount Rushmore of keeping old people angry."
President Obama told jokes to the crowd before McHale.
His best one? About House Speaker John Boehner.
"These days the House Republicans actually give John Boehner a harder time than they give me, which means orange really is the new black."
Jordan Fabian is Fusion's politics editor, writing about campaigns, Congress, immigration, and more. When he's not working, you can find him at the ice rink or at home with his wife, Melissa.