On Sunday Politico published a lengthy profile of John Boehner, the recently retried former Speaker of the House. The story is rife with Boehner's characteristic, uh, colorful language, but nothing stands out more than his digs at former colleagues and an aside about that one time he called Fox News Host Sean Hannity to tell him he was nuts.
The phone call and their ensuing conversation, Boehner explained, was partly prompted by his concern that Hannity had been "dragged to the dark side" of American political commentary — a place the Fox News host apparently hadn't inhabited before conservative radio host Mark Levin "went really crazy right" and increased his popularity. Boehner, however, was unfortunately unable to save Hannity:
Boehner, seated in his favorite recliner, lights another cigarette. "I had a conversation with Hannity, probably about the beginning of 2015. I called him and said, 'Listen, you're nuts.' We had this really blunt conversation. Things were better for a few months, and then it got back to being the same-old, same-old. Because I wasn't going to be a right-wing idiot."
Boehner also lamented just how darn polarized American politics have become (eschewing culpability, of course, for "the deepening fissures in American society.") Echo chambers and social media are, however, to blame:
"It was modern-day media, and social media, that kept pushing people further right and further left. People started to figure out...they could choose where to get their news. And so what do people do? They choose places they agree with, reinforcing the divide."
G/O Media may get a commission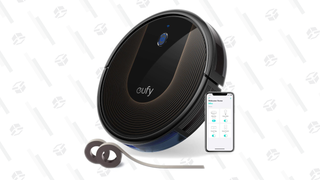 48% Off
Eufy BoostIQ RoboVac
And then there's this hilarious (and stunning) condemnation of former House Rep. Jason Chaffetz and current Rep. Jim Jordan:
"Gowdy—that's my guy, even though he doesn't know how to dress," he says. Then Boehner leans back in his chair. "Fuck Jordan. Fuck Chaffetz. They're both assholes."
A very liberated and supposedly "unchained" Boehner also casually dropped a story about a Republican lawmaker who threatened him with a 10-inch knife. Really:
His heckling once provoked Don Young, an Alaskan himself, to pin Boehner against a wall inside the House chamber and hold a 10-inch knife to his throat. Boehner says he stared Young in the eyes and said, "Fuck you." (Young says this account is "mostly true," but notes that the two became good friends, with Boehner later serving as his best man.)
Well at least they're friends now — Boehner doesn't seem to have many of those left in the Republican Party.