When accused serial sexual abuser John Conyers announced on Tuesday that he was stepping down from his Michigan congressional seat, he made sure to add that he was endorsing his son, John Conyers III, to replace him.

"I want you to know that my legacy will continue through my children," Rep. Conyers explained. "I have a great family here and especially in my oldest boy, John Conyers III, who incidentally I endorsed to replace me in my seat in Congress."
However, based on police documents obtained by NBC News, the younger Conyers may have an equally troubling history with women.
According to NBC, Conyers III—a 27-year-old hedge fund manager who has never held public office—was arrested earlier this year on suspicion of domestic violence against his (unnamed) girlfriend:
The girlfriend said that Conyers III suspected her of cheating after he went through her computer. She told police that he "body slammed her on the bed and then on the floor where he pinned her down and spit on her," the report says.
She said when she tried to call police, he took her phone and then chased her into the kitchen, where she grabbed a knife and told him to leave. By her account, he took the knife and swung it at her, cutting her arm.
G/O Media may get a commission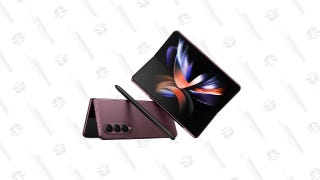 Save Up to $300
Galaxy Z Fold4
However, Conyers III was never charged for the alleged assault, with police citing a "lack of independent witnesses."
While the allegations against Conyers III are alarming, they are hardly the first time the congressman's son has found himself in trouble during his father's time in office. In 2010, he apologized for using one of the congressman's government-registered SUVs after several thousand dollars worth of concert tickets and computers were reported as stolen from the vehicles. That same year Conyers III tweeted that his father was a "fucking player and reckless as hell," who "just got at this doods wife super low-key." That tweet has since been deleted.
Regarding the recent allegations of sexual assault and harassment against his father, the younger Conyers spoke with a local Michigan news station, telling them that, "Of course, with sexual assault, women are to be believed. But in this instance he has no history of this."
In addition to Conyers III's dynastic endorsement from his father, Michigan State Senator Ian Conyers—the congressman's nephew—has also announced that he will run to replace Conyers.