What was Mexican President Enrique Peña Nieto thinking when he invited Donald Trump to Mexico City? He was thinking that he could outsmart Trump, of course. But as everyone saw, Peña Nieto had underestimated his opponent.
Last week's episode will be remembered as one of the lowest points in Peña Nieto's presidency — and that's saying a lot, given the scandals that have enveloped his administration in recent years. Among them: the still-unresolved case of the missing college students in Ayotzinapa, the violent teachers' strike in Nochixtlán, the "Mexican White House" scandal, and the recent allegations involving the first lady's condo in Florida and the potential government contractor who paid property taxes for the condo. Above all, since Peña Nieto took office in 2012, more than 57,000 Mexicans have lost their lives due to violence.
Trump arrived in Mexico on Aug. 31, met with Peña Nieto and left several hours later, without offering any apologies for his anti-Mexico, anti-immigrant rhetoric or changing his wrongheaded proposals one iota. It was truly embarrassing to watch Peña Nieto stand silent after their meeting as Trump took control of the press conference and of the narrative, only calling on reporters who asked questions in English. At one point, Trump said that he and Peña Nieto had discussed Trump's proposal to build a wall along the U.S. southern border — but not about who would foot the bill. Peña Nieto, knowing this was not true, kept silent, further shrinking toward irrelevance.
After Trump was gone, Peña Nieto posted on Twitter that he had made it clear to Trump that Mexico was not going to pay for the wall, as Trump has insisted for over a year. But if that's truly the case, why didn't he contradict Trump at the press conference?
This was not diplomacy on Peña Nieto's part. This was a lack of character and leadership.
G/O Media may get a commission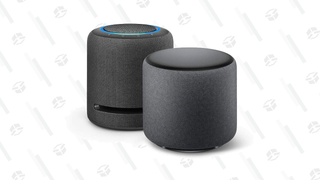 25% off - Prime Exclusive
Echo Studio + Echo Sub Bundle
While the president insisted that his primary intent was "to defend the Mexican people" during his visit with Trump, it's clear that didn't happen. Millions of Mexicans are now wondering why Peña Nieto invited Trump to Mexico in the first place.
It may have had something to do with the fact that these two men are widely disliked. According to the Mexico City-based newspaper Reforma, Peña Nieto has the highest disapproval rating (74%) of any Mexican president since 1995, when the newspaper first started to keep records. And 73% of Latinos in the United States say they think that Trump is racist, according to a recent Univision poll. So these men are two unpopular peas in a pod.
But what did they think would be gained from a public meeting? I think that both men want and seek approval, and they're willing to take great risks to gain respect. Peña Nieto is still reeling from accusations of corruption and incompetence — not to mention recent allegations that he plagiarized part of his law school thesis — so he felt he needed to do something bold to shore up support at home. He may have hoped that positioning himself as a defender of fellow Mexicans against an ogre like Trump would boost his approval ratings. On the other side, Trump is trying to steer a controversial campaign while trailing Hillary Clinton, the Democratic candidate, in almost every poll.
In the end, it was Trump who benefited most from the Mexico meeting. Hours after the press conference, at a speech in Phoenix, he doubled down on his pledge to build a wall along the 1,900-mile border. He insisted again that Mexico will pay for it, even if the Mexicans don't know that yet. It was the first time that, as a presidential candidate, Trump met with a head of state, and he demonstrated that such high-level meetings can be arranged within a few hours. He also used the opportunity to display his notorious stubbornness on the world stage, for everyone to see.
Peña Nieto lost on his own turf. As Reforma aptly described their encounter: Trump used Peña Nieto, then left unscathed.
But while Trump has been talking nonstop about his border wall with Mexico, the one that voters should be concerned about is the wall he wants to build to isolate the United States from the rest of the world and preserve America's European heritage. Hence his obsession with trying to make the border impregnable, his attacks on Latin American immigrants, his rejection of free trade agreements and his scorn for global organizations.
This is a risky bet. Trump thinks he can win the presidency with only the white vote — but I believe he's wrong. Without support from African-Americans, Latinos and Asians, it's just not possible. In two months, we'll see whether his gamble pays off.
Meanwhile, Peña Nieto's influence and approval ratings continue to shrink. He wasted a unique opportunity to recharge his failing administration, when he could have voiced his outrage to Trump and had millions of Mexicans behind him — when he could have finally acted like the leader Mexico needs.
He chose not to.
Jorge Ramos, an Emmy Award-winning journalist, is a news anchor on Univision and the host of "America With Jorge Ramos" on Fusion. Originally from Mexico and now based in Florida, Ramos is the author of several best-selling books. His latest is "Take a Stand: Lessons From Rebels."