President Obama's legacy for the Latino community is deeply conflicted. The last eight years have been full of ups and downs, hopes and deportations, good intentions, protections for more than 750,000 Dreamers, and one big undelivered promise.
In May 2008, when candidate Obama hadn't secured the Latino vote, he told me in an interview: "What I can guarantee is that we will have, in the first year, an immigration bill that I strongly support."
When Obama won the White House with 67% of the Hispanic vote, he had the chance to deliver on that promise. But he didn't, even though Democrats controlled Congress and had a supermajority in the Senate for eight months until Sen. Edward Kennedy's death in August 2009. Due to Obama's political calculus, no immigration bill was introduced during that time.
That was a costly mistake, and the Hispanic community is still paying for it. In a matter of days, immigrants who weren't provided a path to legalization under the Obama administration will be vulnerable to mass deportation under Donald Trump.
Obama's main immigration achievement was the signing of an executive order to protect some 750,000 Dreamers, or young people brought to the United States as children by their undocumented parents. Under this program, called the Deferred Action for Childhood Arrivals, Dreamers may work or continue their schooling, and they are protected against deportation. The problem, of course, is that Trump can bring the program to an end on his first day in office.
G/O Media may get a commission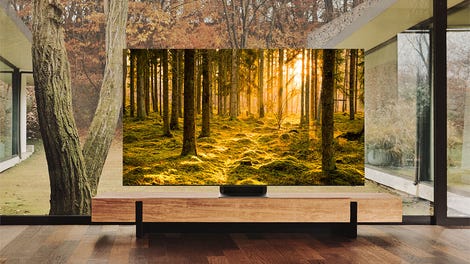 Up to 40% off
Samsung Smart TVs
Yes, the implementation of DACA was good news for immigrants, but Obama's overall deportation record was not. Unfortunately, he will be remembered by many Hispanics as the "deporter in chief." The term, coined by Janet Murguia, president of the National Council of La Raza, still annoys Obama.
From January 2009 to September 2016, the Obama administration deported more than 2.6 million immigrants, according to government data—that's more than 900 people a day. It follows that Obama likely broke up thousands of Hispanic families. His stated intention was to remove immigrants with criminal backgrounds and to underscore the rule of law. But Obama deported thousands of people with no criminal record—their only crime was crossing the border to find work.
All the above notwithstanding, Obama's legacy toward Latinos goes beyond deportations and broken promises. After he realized that failing to pass comprehensive immigration reform was a mistake, Obama pressured Republicans for years to pass a bill that included a pathway to citizenship for immigrants living in the country illegally. But Republicans never obliged.
Still, Latinos always had a place at the table in the Obama administration. The president named Latinos to head departments and had Latino advisers. He appointed Sonia Sotomayor, the first Latina justice on the Supreme Court—no small achievement.
Spanish-language media always had access to the White House during the Obama administration, which I am thankful for. The administration treated us journalists the same way as those working for English-speaking news organizations. That was major progress. As president, Obama granted me four interviews and attended two forums for Univision. And while the questions we posed were challenging, he was always willing to keep the conversation open.
Obama's public statements impressed me. His trademark pauses showed that he was working to find the most appropriate words to express himself effectively. We'll all miss that thoughtfulness in the Trump era.
Perhaps Obama's greatest contribution to the Hispanic community is hope, particularly for children. Since his election, I've noticed that many more Hispanic youngsters speak of becoming the nation's first Latino or Latina president. If Obama can become the first African-American president in a country with a long history of slavery, racism and discrimination, a Hispanic president can also occupy the White House one day. I'm convinced that the first Hispanic president has already born, and that Obama has helped pave the way.
After all, Obama borrowed the phrase "yes we can" from Hispanic activists César Chávez and Dolores Huerta. If he can, others can as well.
Farewell, Mr. President.
Jorge Ramos, an Emmy Award-winning journalist, is a news anchor on Univision and the host of "America With Jorge Ramos" on Fusion. Originally from Mexico and now based in Florida, Ramos is the author of several best-selling books. His latest is "Take a Stand: Lessons From Rebels."