That's the question that millions of undocumented immigrants in the United States are now asking themselves. The fear is understandable. The Hispanic community is responding to months of Donald Trump's anti-immigrant rhetoric on the campaign trail.
I take Trump at his word. I think he really believes that Mexican immigrants are criminals and rapists — as he said on June 16, 2015, when he announced that he was running for president. He's wrong, of course, but that's what he believes. Now some of Trump's followers are trying to normalize his extremist positions by suggesting that what he has said in the past shouldn't be taken literally. But how can one not take the next president's words seriously?
Meanwhile, other vengeful Trumpists are accusing journalists of sowing fear in the Hispanic community by talking about mass deportations. But I'd like to point out that Trump himself sparked the panic. We journalists merely reported what he said.
In his recent "60 Minutes" interview, Trump said that he intended to deport about 3 million undocumented immigrants with criminal records. I have no idea where he came up with that figure. The Migration Policy Institute estimates that about 690,000 undocumented immigrants have a criminal record (here's the data: t.co/b5qy1VdYxi). That's 6.3% of the undocumented population in the U.S., compared with the 93.7% who are law-abiding.
But when the raids start, so will the collateral damage. Immigrants with criminal records don't all live alone. Raids will needlessly split families and cause terror. The risks of human rights violations and unlawful detentions are quite real, warned Anthony Romero, executive director of the American Civil Liberties Union, in a recent MSNBC interview.
G/O Media may get a commission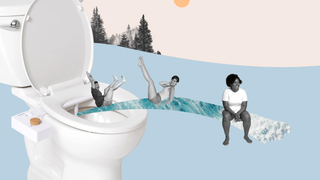 17% off
Tushy 3.0 Warm Water Spa Bidet Attachment
His detractors never envisioned that Trump's rhetoric might become real. Now comes the rush to address the crisis. Earlier this month, Claudia Ruiz Massieu, Mexico's foreign secretary, presented an 11-point strategy to help Mexico's 5.7 million undocumented citizens living in the U.S. The plan includes offering more protection through Mexico's 50 consulates and setting up a hotline help number (watch a video explaining the plan here: bit.ly/2eZ8708). But Ruiz Massieu's appeal for people to be calm has come too late.
Millions of undocumented Mexicans and Central Americans in the U.S. are anything but calm. It's quite clear that President Enrique Peña Nieto has no leverage in negotiating with Trump, who humiliated him at a news conference in Mexico City in August. Peña Nieto will go down as one of Mexico's weakest presidents, and he's on his way out. So the Mexican presidential race in 2018 will be defined in no small part by the candidates who can best resist Trump's border wall and raids.
Mayors in Los Angeles, New York, Chicago, San Francisco and Denver, among other cities — are preparing to defend undocumented populations against Trump. In these so-called "sanctuary" cities, law enforcement authorities will not cooperate with immigration agents or divulge personal information about undocumented residents.
Trump's Jan. 20 inauguration is a new threshold in the battle for immigrants' rights. He will likely call for mass deportations—unprecedented in scale in America — just like he promised during his campaign.
But as we embark on these next four years — and they will be difficult — we should keep in mind that a large proportion of the American people still reject the president-elect's racist, anti-immigrant views. After all, Trump did lose the popular vote.
Yes, I do believe Trump when he says something; I take him at his word. But while the fear among immigrants is real, we should be reassured that the resistance is real, too.
Jorge Ramos, an Emmy Award-winning journalist, is a news anchor on Univision and the host of America With Jorge Ramos on Fusion. Originally from Mexico and now based in Florida, Ramos is the author of several best-selling books. His latest is "Take a Stand: Lessons From Rebels."