Joy Reid is having a bad week! First, what appeared to be old, homophobic blog posts—even worse than the ones she apologized for last year—resurfaced. Then, her claim that "hackers" had fabricated the posts was met with deep skepticism. Now, the so-called "cybersecurity expert" Reid says she hired to investigate those claims has been outed for a string of erratic tweets of his own—including ones mentioning his association with a former hacker-turned-notorious white supremacist.

As Mediaite first reported on Wednesday, that expert, Jonathan Nichols, has some problematic old tweets talking about the white supremacist Andrew Auernheimer—the ex-hacker who goes by "weev"—and seeming to brag about his ties to the administrators who run Stormfront, the neo-Nazi forum.
The site traced Nichols' old tweets using the internet archiving services Archive.is and the Wayback Machine to find him tweeting about apparently being invited to a party to celebrate Auernheimer's release from prison after he served a year for hacking Apple's iPad security. (Auernheimer emerged from prison a full-blown neo-Nazi, and published a coming out post on The Daily Stormer, another white supremacist blog, about how much he hates Jewish and black people).
Those tweets from just five months ago also involved Nichols baiting his followers to connect him with Stormfront—Auernheimer actually helps run The Daily Stormer—and bragging about live-tweeting the notorious troll's release from prison.
G/O Media may get a commission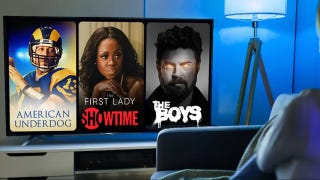 UNDER $1
99¢ Prime Video Channels
In another now-deleted tweet, Nichols—whose LinkedIn bio brands him as an "Information Operations soldier" with a background in "military propaganda" and "human intelligence"—also linked himself to American intervention in Libya in 2011.
"Nah, I'm a senior leader, I'm a senior PSYOPer. I find your civilian disruption to be cute. By way of example, I could have influenced the propaganda mission of Libya. I chose not to," he tweeted in a December 2017 message, as captured by Mediaite.

By Wednesday, Nichols had scrubbed his account. He then tweeted that he was at the party celebrating Auernheimer's release from prison, but claimed he didn't know he was racist.
Nichols also claimed not to understand why these associations are news now, a foolhardy excuse after his name was attached to a statement and letters to both Google and the Internet Archive that were quietly distributed by NBC to reporters on Tuesday night. In that statement, he claimed to have "significant evidence" to prove that Reid didn't write the offensive posts.
Working with Reid, Nichols wrote that he "discovered that login information used to access the blog was available on the Dark Web and that fraudulent entries—featuring offensive statements—were entered with suspicious formatting and time stamps.
"At no time has Ms. Reid claimed that the Wayback Machine was hacked, though early in our investigation, we were made aware of a breach at archive.org which may have correlated with the fraudulent blog posts we observed on their website," Nichols also said.
Even as the plot thickens, it's not all bad news for Reid. An NBC spokesperson confirmed to Politico on Wednesday that Reid was keeping her two-hour weekend politics show, AM Joy, on MSNBC. I have reached out to NBC to ask about this latest news, and will update if I hear back.