The Library of Congress announced today the appointment of Juan Felipe Herrera as the first Latino poet laureate in U.S. history.
Herrera, a California poet whose work is known for its experimental and genre-blending exploration of Mexican-American identity, will be the nation's 21st poet laureate. He will take up his position in September.
The son of migrant farmworkers from Mexico, Herrera grew up moving around Southern California, living in tents and trailers and speaking Spanish in his early years.
"I want our young Latinos and Latinas to write their hearts out and express their hearts out and let us all listen to each other," Herrera, 66, told NBC News.
G/O Media may get a commission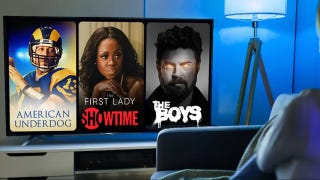 UNDER $1
99¢ Prime Video Channels
He was the poet laureate of California for the last three years.
"I feel like I'm on one of those big diving boards," Herrera told the New York Times. "I was on a really high one already, and now I'm going to the highest one."
"It's a little scary," he added. "But I'm going to do a back flip and dance as I go into it."
Herrera has written 28 books, most recently a 2014 picture book of inspiring Latino Americans, called Portraits of Hispanic American Heroes. He has been the recipient of the National Book Critics Circle Award and the International Latino Book Award.
As poet laureate of California, he worked to create what he called "The Most Incredible and Biggest and Most Amazing Poem on Unity in the World" by soliciting words or fragments of poetry from California residents via social media. It ended up being more than 200 pages long.
Some of Herrera's work has addressed immigration and undocumented rights. A 2007 collection of his work was titled 187 Reasons Mexicanos Can't Cross The Border. According to a New York Times review of the collection, "Each border or barrier in Herrera's work seems meant to be denied, crossed, overcome: oral and written, Spanish and English, oneiric and public, lyric and oratorical."
Herrera has degrees from UCLA—where he was involved in the Chicano rights movement and experimental theater—as well as Stanford, and the University of Iowa Writers' Workshop, and is a visiting ethnic studies professor at the University of Washington.
"His poems engage in a serious sense of play—in language and in image—that I feel gives them enduring power," Librarian of Congress James H. Billington said in a statement. "I see how they champion voices, traditions and histories, as well as a cultural perspective, which is a vital part of our larger American identity."
You can read some of his poems here, posted by the Times.
We've reached out to Herrera and will update when we hear back.
Casey Tolan is a National News Reporter for Fusion based in New York City.