Just days before the election, the Democratic Party is fighting Republican presidential candidate Donald Trump in the courts, accusing his campaign and state Republican Parties of encouraging supporters to intimidate voters under the thinly veiled guise of stopping voter fraud.
In the swing state of Ohio, a federal judge issued a temporary restraining order against the campaign, Trump's former advisor Roger Stone, and Stone's political group called "Stop the Steal" (a heavy-handed nod to the dangerous idea Democratic candidate Hillary Clinton can only win the election by stealing it). The lawsuit argued those groups were conspiring to keep minority voters from casting their ballots in urban areas.
According to The Washington Post, the claim against the Ohio Republican Party was dismissed, and the restraining order prohibits everyone, regardless of political affiliation, from voter intimidation tactics such as "unauthorized poll watching, the admonishing or questioning of voters, and taking photos or recording voters inside or near polling places."
Democrats lost a similar lawsuit in Arizona yesterday. A federal judge determined "the state Democratic Party hadn't shown evidence that the Republicans were conspiring to conduct illegal voter intimidation," according to the Associated Press.
The Democratic Party also has lawsuits pending in Nevada and Pennsylvania against Trump's campaign, the states' Republican Parties, and "Stop the Steal."
G/O Media may get a commission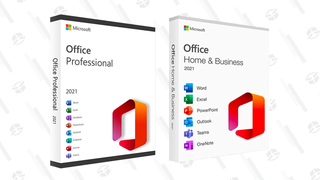 89% off
Microsoft Office Professional 2021 Lifetime License
In Nevada, a federal judge ruled the Trump campaign and Nevada Republican Party aren't training people to intimidate voters, but the case against Stone and his group "Stop the Steal" remains open, and a hearing is scheduled for Monday.
In a related battle, the status of poll watchers in Pennsylvania seems to be resolved in favor of Democrats. Under the state's current law, the rules governing poll watchers and when they can challenge voters are unusually broad, meaning they're vulnerable to abuse.
Poll watchers can only observe voting in their own county though, and the Republican GOP filed a lawsuit in an effort to allow observers to cross county lines. Democrats charged it was an attempt to intimidate minority voters. In a not so subtle dog whistle, Trump told voters in rural Pennsylvania they need to keep an eye on the polls in "certain areas," to make sure "other people don't come in and vote five times." A judge ruled against the request from the Pennsylvania Republican Party.
Voter fraud is incredibly rare—a professor at Loyola Law School in Los Angeles studying the issue has only been able to pin down a possible 31 instances since 2000, during which time more than one billion votes were cast.