A federal judge in Arizona ruled on Tuesday night that a state law which shut down the Tucson Unified School District's Mexican American studies program was unconstitutional and racist.
The decision by U.S. District Judge A. Wallace Tashima said that both the passing and the enforcement of that HB 2281—which banned courses it claimed could lead to racial tension—violated the First Amendment, targeted Latinx students in violation of the 14th Amendment, and were "motivated by racial animus."
The law was passed by Arizona's Republican-dominated legislature and signed into law by then-Governor Jan Brewer in 2010. As a result, the TUSD was forced to shut down its popular Mexican American studies program in 2012, or risk a 10% cut in state funds if it did not comply.
"Additional evidence shows that defendants were pursuing these discriminatory ends in order to make political gains," Tashima explained in his ruling, which was released on Tuesday. "[Former Superintendent of Public Instruction Tom] Horne and [successor John] Huppenthal repeatedly pointed to their efforts against the MAS program in their respective 2011 political campaigns, including in speeches and radio advertisements. The issue was a political boon to the candidates."
G/O Media may get a commission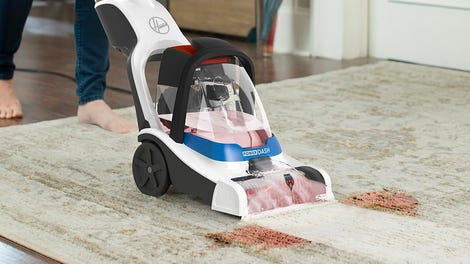 26% Off
Hoover PowerDash Pet Compact Carpet Cleaner
According to most accounts, 2281's racist origins began in 2006, when labor leader and civil rights activists Dolores Huerta visited a Tuscon public school and declared that "Republicans hate Latinos."
"This infuriated then Superintendent Public Instruction Tom Horne, who sent his deputy, Margaret Dugan, who is herself a Hispanic Republican, to offer a counter-speech," Huffington Post's Roque Planas explained to NPR in July 2017, when the case first went to trial.
"When she did that, some students were upset because they weren't allowed to ask questions. And so they stood up in the crowd and put tape across their mouths in protest," Planas continued. "This angered Tom Horne even further, and that led to him starting this campaign to restrict the teaching of ethnic studies specifically to shut down this Tucson program."
Much of the substance of 2281 was upheld in by a federal appeals court in 2015. However, that court returned the case to Judge Tashima to determine whether there was racist intent in the creation of the law.
Despite ruling that racism was, indeed, a motivating factor, Judge Tashima pointedly did not declare what, if anything, should be done about the law.
"Since neither the Governor, the Legislature, nor the State itself is a party, the court doubts whether there is any defendant against whom this finding can be enforced," he wrote in his ruling. "This is not a Final Judgment because the court has not yet decided on the appropriate remedy. Thus, costs and attorneys' fees also have yet to be determined."
Nevertheless, Richard Martinez, one of the plaintiff's attorneys, was overjoyed by the ruling, telling The Huffington Post: "It speaks to the importance of the judiciary and protecting everyone against racial discrimination."