Chipotle was acting against the law when it fired an employee for tweeting about labor conditions at a Pennsylvania location, according to Administrative Law Judge Susan A. Flynn.
James Kennedy, a 38-year-old war veteran, was let go by the beleaguered fast food retailer in January of last year after he started complaining about low wages and passed around a petition demanding that managers give employees breaks. According to a brief presented to Flynn and the National Labor Relations Board, Kennedy tweeted his discontent under the now defunct handle @absurd77. In response to a customer who thanked Chipotle for a free meal, Kennedy wrote "@NHA_Fever @ChipotleTweets nothing is free, only cheap #labor. Crew members only make $8.50hr how much is that steak bowl really?" and after employees were forced to work in poor weather conditions, he wrote ""@ChipotleTweets Snow day for 'top performers' [Communications Director] Chris Arnold?…"
According to the brief, Chipotle said his tweets violated the company's code of conduct, which stipulates that "if you aren't careful and don't use your head, your online activity can also damage Chipotle or spread incomplete, confidential, or inaccurate information. To avoid this, our Social Media Code of Conduct applies to you," the code adds that "you may not make disparaging, false, misleading, harassing or discriminatory statements about or relating to Chipotle, our employees, suppliers, customers, competition, or investors." Those who act against code face "disciplinary action, up to and including termination."
The brief notes that according to Chipotle, this code has changed.
Kennedy deleted his tweets. In February, he was fired after he refused to stop circulating a petition demanding that managers abide by Chipotle's break policy.
G/O Media may get a commission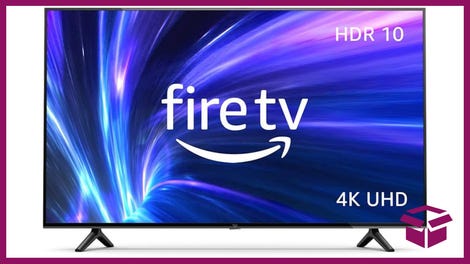 42% Off
Amazon Fire TV 50" 4K Smart TV
Kennedy's lawyers say that Chipotle not only broke the law when it fired him for trying to organize workers, but that it violated his rights when asking him to delete his tweets. Furthermore, they said, the code itself is illegal.
The judge ultimately agreed.
She found that Chipotle, which maintains that Kennedy was let go because his manager feared he might become violent, should not have stifled Kennedy. "If you want to tweet something about your personal experience at your job, do it," she told Philly.com, adding, "Tweet at your bosses and your bosses' bosses."

Flynn explained that it's important to loop in your bosses' higher ups, because "A lot of times your bosses will sugarcoat what's going on… doing it publicly really puts the spotlight on them." She warned against libel and slander, however, so keep that in mind if you're about to start tweeting.
Flynn ruled that Chipotle must offer to rehire Kennedy and pay back wages. Kennedy, who now has a union job with American Airlines, said he's mostly interested in winning back rights to a free daily meal. "Their labor policies were atrocious," he said, but "you cannot deny that their food is delicious." Fair enough.
Chipotle did not immediately respond to a request for comment.
Danielle Wiener-Bronner is a news reporter.