Last week the Senate Judiciary Committee advanced President Trump's nominee to the federal bench in North Carolina, attorney Thomas Farr, whose history of defending draconian laws that seek to strip black and brown people of their voting rights, precedes him.
Farr's nomination will now head to the full Senate, where a final vote is required to approve his lifetime appointment to the U.S. District Court for the Eastern District of North Carolina.

The Congressional Black Caucus has vehemently opposed Farr's nomination. In a September letter addressed to the Senate Judiciary Committee, the CBC described Farr as one of the most virulent threats to voting rights in decades. "It is no exaggeration to say that had the White House deliberately sought to identify an attorney in North Carolina with a more hostile record on African-American voting rights and workers rights than Thomas Farr, it could have hardly done so," the letter read.

Farr's campaign against voting rights began nearly three decades ago, when he represented the senate campaign of Jesse Helms, a lawmaker who once led a 16-day filibuster against naming a federal holiday after Martin Luther King Jr. In 1990, Helms for Senate sent 125,000 postcards to North Carolina voters, most of whom were black, falsely insinuating they were ineligible to vote and threatened to charge them with voter fraud if they tried to cast ballots. The Justice Department filed a Voting Rights Act complaint against the campaign. Farr defended the Helms campaign in that case.
Most recently, Farr defended North Carolina's racist voter identification law that was struck down by the Fourth Circuit, which characterized it as "the most restrictive voting law in North Carolina seen since the era of Jim Crow" in its ruling. As the Huffington Post noted, in his defense of the 2013 law, Farr contended it "was not a nefarious thing."
G/O Media may get a commission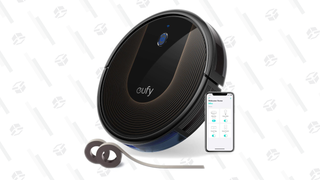 48% Off
Eufy BoostIQ RoboVac
William Barber, North Carolina's NCAAP chapter president, also wrote the Senate Judiciary Committee to oppose Farr's "bone-chilling" nomination:

In summary, Thomas Farr has been the lead attorney in attacking every modern effort in North Carolina to empower the state's African American voters; and in most of case, he has been a public architect of the regressive and discriminatory backlash. Based on his outspoken history and aggressive litigious style of opposing African Americans and the rights of the vulnerable, African Americans have no trust or faith that Thomas Farr can be independent, fair, and impartial in serving as member of the esteemed federal judiciary.
Farr joins an illustrious list of transparently prejudiced attorneys nominated by Trump to the federal bench. One of Trump's nominees to the U.S. District Court in Texas, Jeff Mateer, openly and proudly admitted to discriminating against LGBTQ people in two 2015 speeches. Mateer also said trans children were evidence that "Satan's plan is working."
A spokesman for Senate Majority Leader Mitch McConnell said on Friday that a vote on Farr's nomination had yet to be scheduled.