A jury found Jose Ines Garcia Zarate not guilty in the death of Kate Steinle on Thursday—she was killed in San Francisco two years ago.
Conservatives, including Donald Trump, seized on Steinle's death as an opportunity to portray sanctuary cities as dangerous threats to public safety. Trump specifically blamed sanctuary city policies for Steinle's death at the Republican National Convention.

Garcia Zarate, a 45-year-old Mexican citizen, was released from a San Francisco jail several months before the July, 2015, shooting—despite a request from federal immigration authorities to hold him as he was on track for his sixth deportation.

Steinle was walking with her father on San Francisco's Pier 14 when she was killed. Prosecutors argued that Garcia Zarate had intentionally targeted Steinle, though the case is complex and the defense argued her death was an accident.
G/O Media may get a commission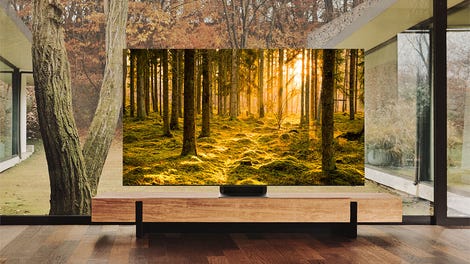 Up to 40% off
Samsung Smart TVs
Garcia Zarate found the gun wrapped in clothing near a pier bench where he was sitting and wasn't aware it was a gun until after it went off. The bullet that killed Steinle ricochetted off the concrete pier before hitting her, a sign that the shooting was an accident, his lawyers said.
Matt Gonzales, Garcia Zarate's attorney, also argued that his client had been misrepresented as a violent criminal. Garcia Zarate did have a history of drug charges, but didn't have a violent criminal record and spent most of his life in prison. From the San Francisco Chronicle:
During the trial, jurors watched video from Garcia Zarate's four-hour police interrogation, in which he offered varying statements about his actions on the pier. At one point he said he had aimed at a "sea animal," and at another point, he said the gun had been under a rag that lay on the ground near the waterfront, and that it fired when he stepped on it.

Gonzalez said it was clear in the video that Garcia Zarate — who has spent much of his adult life behind bars, was living on the street before the shooting, and has a second-grade education — did not fully understand what the officers were asking him through an officer's Spanish translation.
The gun that killed Steinle was stolen from a U.S. Bureau of Land Management ranger's car. No arrests have been made in connection to the stolen weapon, however surveillance footage from before the shooting shows a group of people near the bench where Garcia Zarate would later sit and find the weapon. Gonzalez argued that the group may have been discarding the stolen gun.
Garcia Zarate was charged with murder—jurors debated whether to convict him with first-degree murder, second-degree murder, or involuntary manslaughter. He was acquitted of the murder charges and found guilty of possessing an illegal firearm.
"I'm relieved," Public Defender Jeff Adachi said after the verdict was read. "There was a lot of misinformation and bad publicity."
In June 2017, the House of Representatives passed Kate's Law, which would increase the mandatory minimums for immigrants who re-enter the U.S. after being deported. Kate's Law was not passed by the Senate.
While Trump has continued to cite Steinle's death as a reason to defund sanctuary cities, her parents have avoided politicizing her death. "We're sad, we're grieving, but we're not mad," Jim Steinle, Kate's father, told the Chronicle in 2015. "We struggle a little with: Are we doing the right thing here? How do you keep it real and not get involved in the politics of the thing?"
Update, 10:42 PM: Attorney General Jeff Sessions responded to the verdict by renewing his denunciation of sanctuary cities. "I urge the leaders of the nation's communities to reflect on the outcome of this case and consider carefully the harm they are doing to their citizens by refusing to cooperate with federal law enforcement officers," he said in a statement released on Thursday.