A sand sculpture of Justin Bieber's head was destroyed at a Syracuse, New York state fair this week by a person who was possibly intoxicated, local media reported.
Is this a crime of passion? Sand makes for the perfect crime. Or was it an accident in sand, which is so prone to human error and the passage of time?
A witness told WSYR-TV that he saw a man circle the sand sculpture that featured the heads of famous performers. The man, who the witness said was in his 30s, then allegedly "fell" into the sculpture.
"Maybe this is an individual who may have been intoxicated, or maybe had an issue exactly with Mr. Bieber," State Trooper Jack Keller told WSYR-TV. "Certainly we're going to keep an eye on things and we're investigating it."
Let's do a little investigating ourselves. Summer 2016 has been not been about personal growth for Bieber, but rather controversy. First, he got a face tattoo. Then rumors flew that he was dating Hailey Baldwin, and he was photographed naked on the beach in Hawaii with Instagram model Sahara Ray. After posting a photo with new-rumored girlfriend Sofia Richie, 17, his fans the Beliebers reacted angrily. The back-and-forth got so nasty that Bieber deleted his Instagram, which in millennial world, is the ultimate passive-aggressive act.
G/O Media may get a commission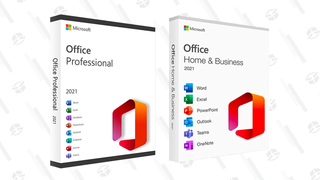 89% off
Microsoft Office Professional 2021 Lifetime License
The day before the vandalism, Bieber forgot the lyrics to "Cold Water" while onstage at the BBC Radio 1 Live Lounge, according to Teen Vogue. Could the incidents be related?
If it was a crime of passion, the vandal could have been a scorned Belieber; someone acting out at his womanizing ways; an Instagram-defending millennial or someone passionate about face tattoos (either for or against). That's just this summer's scandals, let's not forget all his previous infractions—the vandal could have been acting out over Bieber's actions against Selena Gomez and waiting for the right moment to act and a malleable sand sculpture could be the perfect crime.
As Bieber himself sings in "What Do You Mean?":

What do you mean?
Better make up your mind
What do you mean?
To be fair, anyone who works in sand sculptures knows that they are malleable and easily subject to accidents. Could this just be an example of wrong place, wrong time?
As anyone forced to see inspirational sayings on Instagram knows, time is like a handful of sand — the tighter you grasp it, the faster it runs through your fingers. Maybe the same is true of Justin Bieber sand sculptures — the closer you get to them, the more likely you are to dive into them.