Whether you're a Belieber or not, I'm sure you're well aware Justin Bieber's music video for his 2010 breakout single 'Baby' hit ONE BILLION views today on his VEVO account (he still has about 5 million views left to go on YouTube) courtesy of Twitter hashtag #BabyHit1Billion. It's your typical guy-chases-girl video, starring his pre-incarceration bangs, but it may have served as a foreshadow of things to come.
1. Proof he would become a womanizer
From the Brazilian prostitute scandal to his $75,000 strip club splurge in Miami, the Biebs knows how to attract the classiest paid women "all around the world." Starting with these 16-year-old video vixens.
2. Proof of his tumultuous relationship with Selena Gomez
Just like his relationship with Selena, the young Latina who's the object of Justin's affection in the video was quick to kick him to the curb. Until they got back together…again.
G/O Media may get a commission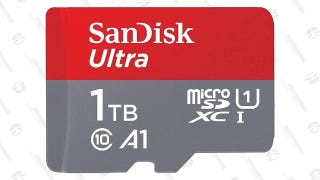 Save $75
SanDisk Ultra 1TB MicroSDXC Card
3. Proof he always wanted to become a rapper
With cameos by Drake and Lil' Twist, this was our first glimpse at Justin Bieber's transition into his alternate rap life, thus becoming Malibu's Most Wanted.
4. Proof that his daredevil personality would get him involved in a cocaine bust
In the video, JB crosses the line (literally!) and high-top swags his way all over the bowling lanes (without bowling shoes on!). This was a pre-cursor to police raiding his home and finding cocaine during the Biebergate scandal. Somehow, he went from crossing lines to having lines found in his home.
5. Proof that his friends do the dirty work
Following Biebergate, longtime BFF Lil' Za (who is this kid?) was taken to jail and charged with cocaine possession, but not Justin. Just like when he threw his background dancer under the bus (or on the bowling lane) to do his dirty work.