SAN FRANCISCO – As a 14-year-old, Ayanna Rasheed never dreamed she would one day be valedictorian of her high school class, a youth advocate, and a licensed EMT. That's because Rasheed, now 22, was serving out a 21-month stay at San Joaquin Juvenile Hall near Stockton.
From Rasheed's perspective, giving kids a quality education at the hall seemed like the lowest of institutional priorities.
"It was very basic, math and social studies," recalls Rasheed. "We would rotate the same worksheets and lesson plans. It was like giving a child a coloring book—like, 'Here, do this.' There was no lesson plan, there was no explaining it, [and] it wasn't broken off according to grade level. Everyone just got the same worksheet."
Because her classroom consisted of girls ranging in age anywhere from 12 to 18, worksheets never exceeded a sixth-grade level, she said. And rather than one lesson building on another, Rasheed said the worksheets were simply repeated every three months.
G/O Media may get a commission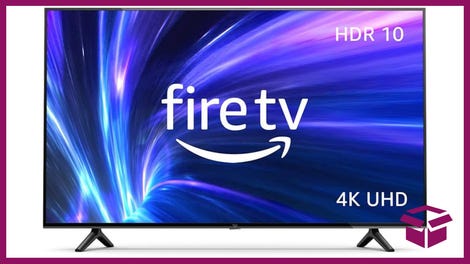 42% Off
Amazon Fire TV 50" 4K Smart TV
Ayanna's experience in her juvenile hall classroom is hardly unique.
A study released by the Youth Law Center concluded that "court schools" inside juvenile detention facilities are putting kids on a fast track to academic failure. Where court schools have an opportunity to re-engage youth in their education and provide valuable career training, they are instead too often failing to provide even a basic level of education.
The report identifies high truancy rates and suspensions, minimal academic gains, and low re-enrollment after release as key problems plaguing court schools, which are typically run by county education and probation departments.
Rasheed shared her personal story on a panel last Tuesday at the World Affairs Council in San Francisco. The forum, titled "Education Reform's Missed Opportunity: Young People in California's Court Schools," was organized by New America Media and featured formerly incarcerated youth, experts from Youth Law Center, EdSource, Impact Justice, and Senator Loni Hancock (D-Oakland).
David Muhammad from Impact Justice provided the opening remarks, drawing on his personal memory of once being a 16-year-old on probation.
"There's an old saying that young people don't care about how much you know, until they know about how much you care. And that is incredibly important in this [conversation] around education," he said.
Jennifer Rodriguez, executive director of Youth Law Center and also a formerly incarcerated minor, recalled her earliest impressions of education inside juvenile hall.
"I still remember, my very first night in juvenile hall, I had a pencil and I was trying to do my homework," Rodriguez said. "And the pencil was immediately confiscated for being contraband, and that was kind of the moment I knew education was not a priority, and it was never a priority ever again for all of the years I was [in] the system. Young people get that message."
Despite the fact that juvenile hall schools literally have a captive audience, they remove students from their classrooms at rates that far exceed schools on the outside.
Fourteen court schools sampled in the YLC study were found to have suspension rates 2.5 times greater than the statewide average. Approximately 44% of all court school suspensions were handed out for "willful defiance," a nebulous umbrella term for non-violent behaviors such as swearing in class or using body language that is deemed disrespectful.
Tracking academic progress of students inside juvenile hall is difficult due to the lack of measurable data, but the YLC study did find that roughly half of all students make progress, while one-third actually fall behind.
Transitioning from detention back into the regular school system is also a problem, with only half of young people who exit juvenile halls successfully re-enrolling in school within three months of being released, according to the report. This is attributed to several things: schools often resist accepting kids coming out of detention , young people and their guardians are unaware of their rights in regards to re-enrollment, and the stigma of having been in juvenile hall often discourages kids from going back to their old school.
The low expectations placed on court schools, said Rodriguez, amounts to a missed opportunity.
"The majority of young people incarcerated do not have low expectations for themselves. And they do not have low expectations for their life," Rodriguez said. "Nearly all of them want to be in school, nearly all of them want to be in college. Many of them have wonderful educational goals, but they are lacking information about how to actually get on the path to meet those educational goals."
As for solutions, Muhammad suggested turning to existing models for ideas. Among others, he cited the "transition center" model currently used in Alameda County.
"Every young person who leaves juvenile hall in Alameda County goes through this transition center first… so you get enrolled in school prior to your release, and you are enrolled specifically in your neighborhood school," said Muhammad.
He also offered up as an example the Maya Angelou Academy in Washington, D.C., where he said great effort is taken to connect students with resources outside of the classroom.
The latter is a strategy that worked well for Eddie Chavez, a formerly incarcerated young man from Fresno who spoke at the forum. Chavez left juvenile hall without a high school diploma or GED. He currently works at a local thrift store in Fresno and receives tutoring in writing and math, which his employer pays for. He hopes to one day become a general contractor.
Chavez said the support he's received from local people and organizations is far more than he ever got at juvenile hall.
"I actually find more help with these organizations, tryna get me through this stuff, and help me do what I gotta do," Chavez said. "I think if more juvenile hall systems were dedicated…we could actually have something going."
Although Rasheed does not remember any of her teachers from her time in court schools, she does recall one adult who actually helped her and left a lasting impression.
"I did have a counselor and she really spoke to me," Rasheed said. "I remember something and I [still] kinda live by it. She told me, 'People don't change until they're uncomfortable.' And I had to get uncomfortable being in juvenile hall, being uncomfortable not learning what I should be learning, and just living that lifestyle overall."
When Rasheed was released from juvenile hall at age 16, she was forced to redo high school because she was incorrectly told the juvenile justice system did not have her academic records and none of her credits would be transferred over.
Still, she managed to get her life on track despite the low expectations placed on her by the juvenile justice system.
"The education system in juvenile hall was horrible. It was ridiculous," Rasheed said. "But reading really helped me through it, and when I got out, it made me realize how much I really loved learning and how much I wanted to push forward."
This content was made possible by a grant from The California Endowment and produced independently by Fusion's Rise Up: Be Heard Journalism Fellowship.
Symone Jackson is a community organizer in San Jose, California who graduated from Santa Clara University with a bachelor's degree in sociology. Her involvement in grassroots organizing and work experience as a public health research assistant has provided her with a unique lens for analyzing community health issues. As a local organizer, she primarily works with families who have lost loved ones to police violence, serving as a consultant, conducting legal research, and performing PR and communications duties. As a fellow, she hopes to further develop her writing skills while shedding light on some important community health issues in the South Bay such as housing insecurity and the impact of police violence on children and families.