Early Thursday morning, a purported Kansas State University student named Desmund Weathers posted two images on Twitter—one of a Snapchat post of a white woman appearing to wear blackface overlaid with the caption, "Feels good to finally be a nigga," and another of a woman named Paige Shoemaker's Facebook profile.
"Welcome to Kansas State University," Weathers wrote. "Where breakfast in the morning is some K-State Family with a side of Racism."
In a series of text messages to Fusion, Shoemaker confirmed she was one of the two women in the picture. She said the picture was posted Tuesday night to her public Snapchat story, meaning it could be seen by any of her Snapchat followers. She explained that she was wearing a L'Oreal clay facial mask when the photograph was taken.

"It was sent in a joking manner to our friends," she said. "I am the least racist and most accepting person you will meet. Never would I send it in a derogatory way."
G/O Media may get a commission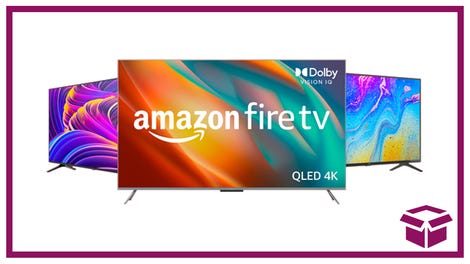 Ooh. stunning.
New Amazon Fire TVs
Weathers and the second woman in the photo could not be immediately reached for comment.
Shortly after the photos surfaced Thursday morning, Kansas State University's Vice President for Student Life, Pat Bosco, issued a statement condemning the posting.
"I have become aware that one of our students posted a racially offensive photo today on social media and used one of the most derogatory words in the English language," Bosco wrote. "This photo has students, faculty, staff and other members of the K-State family upset. It rightly should, as there is no place for racism at our university, regardless of what the intentions may have been. K-State prides itself on being one family, no matter your race, ethnicity, gender, sexual orientation or abilities."
Though the statement does not address whether Shoemaker has been disciplined for her Snapchat post, Kansas State's communications department told Fusion that she is, as of this writing, still a student at the university, but there is a "process in place." According to KSU's online student directory, Shoemaker is a pre-psychology sophomore; the listing appears to have since been deleted.
In a statement posted to their Facebook page Thursday morning, sorority Zeta Tau Alpha said Shoemaker was no longer a member.
"While she did join the Beta Upsilon Chapter at Kansas State University in 2013, she was expelled from the chapter and is no longer affiliated with the organization," they wrote. "Her words and actions certainly do not reflect the values and principles of Zeta Tau Alpha."
Update, 3:56 p.m.: In a statement issued Thursday afternoon, Kansas State said Shoemaker was no longer a student at the university. The school also said the second woman in Shoemaker's photo is "is not associated with the university."
Michael Rosen is a reporter for Fusion based out of Oakland.