Brett Kavanaugh's friend Mark Judge, the man Christine Blasey Ford alleged was in the room when she was sexually assaulted, has come out of hiding, just as the committee tasked with investigating Ford's allegations against Kavanaugh pushed his nomination forward today.
While both Kavanaugh and Ford were questioned for hours yesterday about her allegation that Kavanaugh assaulted her when they were in high school, Judge—potentially the crucial lone witness—was hiding out at a friend's beach house in Delaware. Washington Post reporters tracked him down there last weekend, where they found his car full of Superman comics.
Judge was at the the firm Cozen O'Connor in downtown DC around 1:30 p.m. today, as reported by HuffPost and confirmed to Splinter by a member of staff at the firm's office building. His attorney, Barbara Van Gelder, had earlier issued a statement saying Judge would cooperate with an investigation into the allegations in a confidential manner. The Senate Judiciary Committee also announced it would request an FBI investigation to last no longer than one week after voting to move Kavanaugh's confirmation process forward anyway.
Judge is perhaps the most important missing part of the committee's laughably thin investigation thus far. Despite grilling Ford for hours with a hired female sex crimes prosecutor, the committee failed to call Judge, whom Ford alleged both witnessed and encouraged Kavanaugh's alleged assault on her when she was 15, as a witness. (Judge has said he has no recollection of any such incident.) Key details, such as the timeline of Judge's employment at Safeway—where Ford said she saw Judge working after the attack—could be made available through an FBI investigation. But until today, until the last hour or so before the Judiciary Committee vote—and coincidentally around the time Judge arrived at Cozen O'Connor—the Republican senators on the committee expressed no interest in examining these questions any further. The fact that Judge remained safe and cozy at the beach while Ford was putting herself through hell to testify, going over the details of her worst experience, was hard to swallow.
G/O Media may get a commission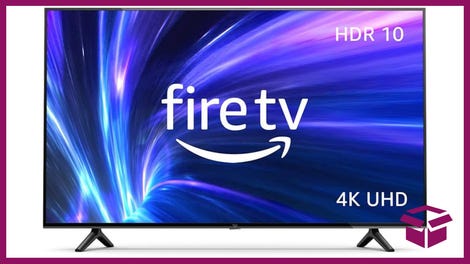 42% Off
Amazon Fire TV 50" 4K Smart TV
What does it mean that Judge has now left the safe confines of Delaware, our worst state? Maybe it means the tide is turning on Kavanaugh, and the sand is starting to slip beneath his feet. More likely, it means the political strategy is shifting, and Republicans have realized the utter stonewalling of any kind of investigation into the truth might not work so well anymore—whether or not they intend to honor the results of that investigation at all.