Racist blowhard and washed up Fox Business Network host Lou Dobbs is inadvertently helping Florida Democratic gubernatorial candidate Andrew Gillum. Thanks, Lou!
Normally, Dobbs' prattle on Lou Dobbs Tonight isn't even worthy of attention. But we know that Fox News junkie Donald Trump watches Dobbs' show and often quotes Dan Bongino, a frequent guest and purveyor of Trumpian conspiracies and disinformation.

On Friday, Bongino accused Democrats of "politicizing storm events" over Trump's false claims that 3,000 deaths in Puerto Rico are unrelated to Hurricane Maria.

As Hurricane Florence pounded the Carolinas, Trump continued to politicize the deaths in Puerto Rico by quoting Dobbs on Twitter. "The people of Puerto Rico have one of the most corrupt governments in our country," Trump tweeted, after claiming he had done "an extraordinary job of cleanup, rebuilding electrical stuff."

G/O Media may get a commission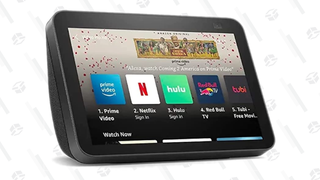 Meanwhile, Dobbs went after FL Gov. Rick Scott and Rep. Ron DeSantis, the far-right Republican candidate and "mini-Trump" who has made little effort to conceal the fact that he is a raging racist. DeSantis will need Trump supporters to defeat Gillum, the popular former mayor of Tallahassee, in the upcoming election. But thanks to Trump's continuous scandalization of the Hurricane Maria death toll, and now Dobbs' doubling down on those denials, pro-Trump voters in Florida might be a little confused. Maybe they'll even stay home in November.

On Thursday, both Scott and DeSantis contradicted Trump about his claims.

"I disagree with @POTUS– an independent study said thousands were lost and [Puerto Rico] Gov. [Ricardo] Rosselló agreed," Scott tweeted. "Ive been to Puerto Rico 7 times & saw devastation firsthand. The loss of any life is tragic; the extent of lives lost as a result of Maria is heart wrenching. I'll continue to help PR."

DeSantis campaign spokesman Stephen Lawson said, "Ron DeSantis is committed to standing with the Puerto Rican community, especially after such a tragic loss of life. He doesn't believe any loss of life has been inflated."

On Friday's show, Dobbs said:
"I'm going to name names. Rick Scott, running for Senate in Florida and Ron DeSantis, running for the governorship of Florida, both instantly took the side against the man who is pushing their candidacies, and without any reason, without any skeptical judgment, without any analysis, without knowledge of the facts, and sided with those who wanted to go with the highest number, irrespective of whether they were based in reality, or fact, or anything close to reason. They were not."
He added:

"They were extrapolations of the wildest form by two universities, I am sad to say, Harvard University and its public policy school, and George Washington University and the Milken Institute. It's a disgrace what they did. They should be ashamed of themselves and they should be apologizing to the American public and the people of Puerto Rico who've had to go through this now again, the number of deaths without again, evidence, without death certificates, without burials, without any factual basis for an analysis of what is Puerto Rico's, one of its greatest tragedies in its history. It's a shame, as you say."
Keep it up, Lou, you're doing great. The Gillum campaign certainly appreciates it.

Watch (Dobbs' comments begin at 1:09):