Keith Ellison won his primary election for Minnesota attorney general last week, despite the allegations leveled at him by ex-girlfriend Karen Monahan of physical and emotional abuse. Monahan's son initially accused Ellison of abusing his mother on Facebook, saying he saw a video on his mother's computer of Ellison dragging his mother out of bed. Monahan later told the press that she would not be releasing that video, while Ellison said in a statement that it didn't exist.

Now, Ellison's daughter, Amirah Ellison, has herself posted publicly on Facebook about the allegations. Amirah describes her relationship with Monahan when she lived with the Ellisons.
Though Amirah doesn't come out and say exactly what she believes happened between her father and Monahan, she clearly had a difficult relationship with Monahan. "I can't sit back and watch as Karen's tried and true red flags appear and the public selectively ignore them," she writes.
G/O Media may get a commission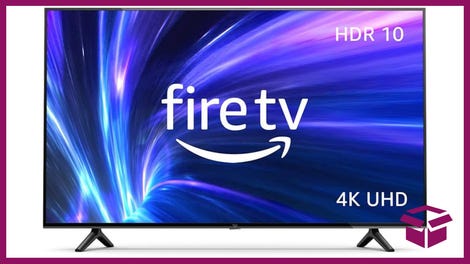 42% Off
Amazon Fire TV 50" 4K Smart TV
Amirah goes on to explain her experiences with Monahan:
[After moving in, she] quickly became actively territorial and threatening towards me as her relationship with my dad became more serious. To me, then, it felt like she was trying to manipulate my dad against me by accusing me of destroying her things and then telling my dad about it in hopes that he'd reprimand me. I never touched her things. As a teenager I couldn't tell if she believed her accusations against me, or if she simply wanted to drive a wedge between me and my dad.

[...]

One weekend, when I finally cleared enough space in my room to sleep there, she refused to knock or respect my space. I felt as if there was nothing of mine that she had to respect. She even accused my mother of stealing her things even though my mom had never visited my dad's place.
Amirah also voices support for the #metoo movement, and says she understands why people want to believe Monahan's account.
Many people—including, probably, many people reading these words—believe Karen. That reality both gives me hope for the beautiful momentum that the #metoo movement has built, and a profound anger at the injustice of these false accusations. But Karen Monahan is exploiting a movement. She is banking on those who have nothing but good intentions to believe her.

If I didn't know Karen, I too would want to lean towards believing the accuser and being skeptical of the accused. Because those of us who are invested in the safety of women know that false allegations just do not happen often.
Ellison was endorsed by Minnesota's Democratic-Farmer-Labor party for state attorney general earlier this week. In November he'll go up against Republican Doug Wardlow. The DFL noted that they could reverse their endorsement of him were more information or allegations to come to light. Republicans in Minnesota have already used the allegations against Ellison in their campaign advertisements.