This week, as anti-choice protesters and GOP lawmakers urged President Trump to reinstate a domestic abortion "gag rule" and entirely defund Planned Parenthood, Kellyanne Conway approached the president with a handy infographic.
As reported by Axios, Conway met with Trump on Friday and attempted to convince him that effectively shuttering an organization providing contraceptive and reproductive care to millions of women, many in underserved and rural areas, would have no affect whatsoever on women's access to health care.
As part of this briefing, which included an aside about Planned Parenthood's backing of Democratic candidates, she showed the president a brightly colored map of the state of Maine.
The Charlotte Lozier Institute, the "research and education" arm of the anti-abortion group Susan B. Anthony List, makes maps like these for all the states. Ostensibly, they use federal data to show the myriad options for low-income women who choose not to patronize murderous clinics like Planned Parenthood. The Maine map, as Axios mentioned, makes the Planned Parenthood-to-rural-clinic ratio look particularly stark, which is likely why Conway chose to present it.
But it appears the Lozier Institute's idea of "real choices" included schools, dental clinics, nursing homes, and even homeless shelters.
G/O Media may get a commission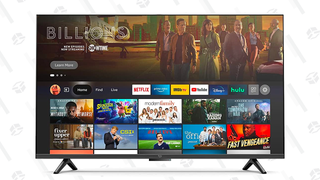 22% off
Amazon Fire TV - 50" Omni Series 4K - Early Access Deal
In the fine print at the bottom, the map lists two sources: a Center for Medicare and Medicaid Services list of designated rural health clinics, and an older Health and Human Services data-set listing health care sites that qualify for federal funds. The Lozier infographic Conway handed to the president lists 172 places that would absorb Planned Parenthood's patients. Between both lists, accounting for overlaps, there are 174 independent qualifying health care sites.
Given the intentionally obtuse (yet very attractive) way the map is organized, I haven't been able to figure out which two clinics the Lozier Institute declined to include.
But here are some of the sites listed in its source material:
The York County Shelter Program, an emergency shelter and addiction treatment facility, Bangor Area Homeless Shelter, another homeless shelter called Hope House, Mercy Home, Health Care for the Homeless, and the Homeless Teen Health Clinic.
The Auburn Middle School School-Based Behavior and Substance Abuse counseling program; the Brewer Pre-K through 12 health center; the Brewer high school clinic, as well as the individual health centers at Lewiston High School, Middle School, and Elementary Schools.
Mountain Heights Nursing home;, Westgate Manor Nursing homes, Woodlands assisted living, Maine Meadows, "a living center for seniors," Ross Manor assisted living, the Bangor short-term rehabilitation center, the Brewer rehab and living center (another short-term rehab center); the Eastside rehab and living center.
The Pemboscot Dental Center, the Fort Kent Dental Clinic, and HAN family dental
Maine Veterans Center and Homes.
These are really just the most blatantly erroneous federally funded centers being floated as replacements for Planned Parenthood; if you'd like to see them all, the list is still available for download through the Internet Archive.
Based on its isolation on the map Conway showed Trump—and its similarity to another, state-sponsored graphic—I am fairly certain the "clinic" on Maine's border with Canada is a school-based health center at the Forest Hill Schools, which graduates a class of 15 or 20 every year. It is listed by the department of Health and Human Services as "Forest Hills Preventative Dental."
When I called earlier today to ask if they did HIV screenings or IUD referrals, I found the number had been disconnected.