A new book about the Trump White House by conservative author Ronald Kessler is alleging that Kellyanne Conway—who once floated using lie detectors on White House staff to find leakers—is the top leaker in the White House.

Kessler, who was on CNN's State of the Union today, said the book, Inside the Trump White House: Changing the Rules of the Game, has "juicy tidbits," one of which that the "number one leaker" is Conway. (Well, not exactly: Kessler originally identified the "number one leaker" in the White House as Hope Hicks, before Jake Tapper corrected him.)
"While I was interviewing Kellyanne at the White House, she forgot that she was on the record," Kessler told Tapper. "And she started lashing into Reince Priebus. She said the most mean and cutting and obviously untrue things about Reince. I didn't include them in the book because they were so unfair." Finally, a journalist willing to protect the most marginalized among us: Reince Priebus.
"She also lit into Jared and Ivanka," Kessler added, "saying that they leak against Steve Bannon. I know that White House aides have seen texts she has sent to other journalists dissing her colleagues, leaking material. So if you wonder why there are so many leaks out of the White House, one reason is Kellyanne is the number one leaker."
Last year, an anonymous Twitter account called KellyanneLeaks alleged that Conway was leaking White House conversations to Washington Post reporters:
G/O Media may get a commission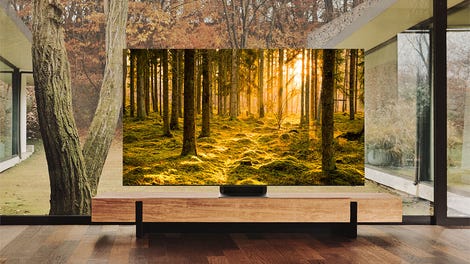 Up to 40% off
Samsung Smart TVs
We've reached out to the White House for comment on Kessler's claim, and will update with any response we receive.
In his book, Kessler also rips into Jared Kushner and Ivanka Trump, calling them "Teflon aides" and saying in his book that they pushed the "most disastorous and foolish decisions of Trump's presidency," such as the Comey firing and the hiring of Anthony Scaramucci.

One person on Trump's team that Kessler did praise was First Lady Melania Trump, who he claims "got Trump to run" for president, adding that she sits in on meetings with member of Trump's cabinet. "Her judgement is spectacular," Kessler told Tapper.
"And we have pictures of her as well, which will certainly sell the book," Kessler added, which isn't a weird thing to say at all.
Kessler, who has been shilling for Trump for years when he wasn't carrying water for the CIA on torture, also said that Trump would eventually be seen as a "great president."
"I think it's a truthful book," Kessler said of the nonfiction book he wrote. "It says that he will be seen as a great president, just like Reagan who was dissed by the press, based on the results. The Reagan unemployment (?), getting rid of ISIS. All of these tweets and controversies are going to be forgotten long term." That's debatable!