Some people get their exercise by going to the gym or taking a jog outside. Others attend group classes or wear an electronic step-counter. Kellyanne Conway seems to get her cardio in by turning up on cable news shows to lie for Donald Trump, stretching herself so far past the truth, it's a miracle she doesn't pull something.
On Fox News Monday night, Conway told host Laura Ingraham that White House Press Secretary Sarah Huckabee Sanders' lie about a staggering number of terrorists allegedly coming to the U.S. over the southern border was just an "unfortunate misstatement."
Sanders had claimed some 4,000 known or suspected terrorists were coming into the U.S. via Mexico—a notion so outlandish that another Fox News host, Chris Wallace, had to call her on it. But Conway explained that Sanders just "unfortunately conflated" some statistics.
Sanders, Trump, and Homeland Security Secretary Kirstjen Nielsen have long parroted the talking point that terrorists are coming into the country over the U.S.-Mexico border. The truth, meanwhile, is that just six undocumented people on the terror watch list were apprehended after coming into the country through the Southern border in the first half of 2018 while 41 have come in through Canada.
Ingraham then asked Conway if it hurts the "credibility of the White House" when they don't "get these basic facts right," which Conway gave a stunning non-answer to, but not before blaming the media for not just skipping over the part where Sanders (and Trump and Pence) tried to spread an agenda based on lies. Conway responded (emphasis mine):

This particular presentation put forth by Department of Homeland Security—Secretary Nielsen has now briefed the Democratic principals who were in the meeting, the staffers who were in the meetings over the weekend, today I sat through as she briefed about 50 reporters had a pen and pad with the vice president, and she also did it with some other journalist. And I think this is important because on page 3, and I think this is on the website as well, this is—the 3,755 number does not refer to people on the Southern border, 'Known or suspected terrorists prevented from traveling to or entering the U.S. by DHS in [fiscal year 20]17.' I believe that includes in some international airports where customs and border patrol...But the other two statistics on here were about the Southern border. So I think it got unfortunately conflated by a colleague. But the apprehensions at the border of gang members, of known criminals—again, the media has this presentation, if they want to be honest they'll cite facts and figures...That was an unfortunate misstatement, and everybody makes mistakes, all of us. The fact is, it's corrected here...
G/O Media may get a commission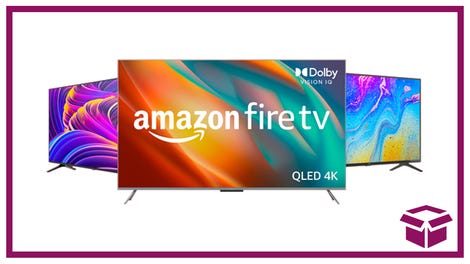 Ooh. stunning.
New Amazon Fire TVs
To Conway, it doesn't matter that Sanders lied, or conflated facts, or misspoke, or however else one of the White House's other spin doctors wants to frame it. To her, it's most irksome that the media is fixated on this lie being exposed before Trump could say it again on national TV tonight.