A Kentucky clerk continues to obstruct same-sex marriages in her county, despite losing the last legal leg she had to stand on.
Clerk Kim Davis of Rowan County, Ky., has refused to issue marriage licenses to any couples in her county—gay or straight—since June, citing religious objections to the Supreme Court's ruling on the constitutionality of same-sex marriage.
The Supreme Court denied Davis' appeal "without explanation" in a "brief one-line order" on Monday night. But, according to The Associated Press, the Rowan County Clerk still won't issue marriage licenses as of Tuesday morning. The AP notes that such a move risks steep fines or even jail time.
The AP reports that Davis hid in her office as at least two couples were denied licenses, finally emerging to ask one of the couples, David Moore and David Ermold, to leave.
G/O Media may get a commission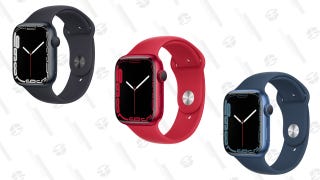 Up To $45 Off
Apple Watch Series 7
"We're not leaving," The AP quotes Ermold as saying. "Then you're going to have a long day," David replied.
Fusion spoke with David Moore in August shortly after he and Ermold were denied a marriage license for the second time. (Tuesday morning marks the fourth time that the couple has been denied a marriage license.) Moore said that the way he and Ermold have been treated by their local officials has been "degrading" and "humiliating":

I don't want to [go to another county for our marriage license]. This is our hometown. We've lived here for 11 years. I work here. My house is here. I do all my business in town…

…It's pretty disgusting that people can't see that we, as human beings, should be afforded the same privileges that they've had their whole lives—that we're not worthy of those same privileges.
Fusion has reached out to David Moore and the Rowan County Clerk's office for comment. We will update if we hear back.
UPDATE: The American Civil Liberties Union has filed a contempt motion with Ky. District Judge David L. Bunning against Kim Davis. Earlier this summer, the ACLU filed a class-action suit on behalf of four couples. That case resulted in an injunction ordering the Rowan County clerk to resume issuing marriage licenses. Davis appealed that decision to the Supreme Court, only to be dismissed late Monday night.
Related coverage:
• What it's like to be gay and have your marriage license denied
• The Kentucky clerk denying same-sex marriage licenses heads to court
Bad at filling out bios seeks same.