President Obama is expected to get a huge welcome when he arrives in his father's homeland of Kenya this Friday. The evening news shows, newspapers, and Kenyans alike are sharing in the euphoria of Obama's impending visit.
But there's one group of Kenyans that seem to have more anxiety than excitement ahead of the president's visit: some 700 Evangelical pastors are asking Obama to leave the preaching to them.
"We would like to send a strong message to the U.S. president that the homosexuality debate should not become part of his agenda, as it has been his tendency whenever he comes to Africa," said Bishop Mark Kariuki, a pastor who advises some 700 pastors as the leader of the Evangelical Alliance of Kenya, according to Kenyan newspaper the Daily Nation.
Kenyan President Uhuru Kenyatta at news conference Tuesday also said LGBT rights in Kenya "is a non-issue to the people of this country, and it is definitely not on our agenda [with President Obama] at all."
G/O Media may get a commission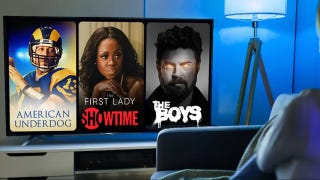 UNDER $1
99¢ Prime Video Channels
Obama will be landing in Kenya just a month after the U.S. Supreme Court declared gay marriage is legal across all 50 states. A stark contrast from Kenya, where having gay sex can get you 14 years in prison. If you're gay and even attempt to have anal sex, that is also a crime, and it could put you in jail for seven years.
The Kenyan High Court recently showed some progress towards equality when it allowed the first gay and lesbian organization to officially register as a legal aid group. The request reached Kenya's supreme court because state officials thought the group's name—National Gay and Lesbian Human Rights Commission—was too explicit.
"But the reality on the ground is that violence and discrimination [against LGBT Kenyans] still persist," Eric Mawira Gitari, co-founder of the National Gay and Lesbian Human Rights Commission (NGLHRC) and a human rights lawyer based in Nairobi, told Fusion.
Gitari, 31, says he's optimistic Obama will deliver speeches in Kenya that are inclusive of all marginalized groups.
"I hope that Obama will address issues of equality and inclusion for all Kenyan citizens, regardless of their sexual orientation, ethnic minority, refugee status," Gitari said.
Obama is attending the Global Entrepreneurship Summit, a conference the U.S. embassy says connects "emerging entrepreneurs with leaders from business, international organizations, and governments looking to support them."
President Obama visited Africa in 2013 just one day after the U.S. Supreme Court expanded federal benefits for married gay couples. He visited Egypt, Ghana, South Africa, Tanzania and Senegal.
"When it comes to how the state treats people, how the law treats people, I believe that everybody has to be treated equally," Obama said during a press conference with Senegalese President Macky Sall in Dakar in 2013.
At least 9 in 10 Kenyans (90%) believe homosexuality should not be accepted by society, according to the Pew Research Center's 2013 global attitudes and trends report. The numbers are slightly better than they were in 2007 when Pew found 96% of Kenyans surveyed said homosexuality should be rejected.
Kenya's anti-sodomy laws fuel anti-gay sentiment, and their vague language is used to criminalize, blackmail, and abuse LGBT Kenyans.
Gitari has worked on cases where police went on raids from house to house looking for suspected gay men. He's currently litigating in Kenya's constitutional court defending two gay men who were arrested for having consensual sex in private and charged for the "unnatural offense." The two men were taken for forced HIV testing and anal examinations.
LGBT Kenyans are harassed by state officials and subjected to physical violence and death threats as a result of their sexual orientation or gender identity, according to a 2013 review of interviews with 474 LGBT Kenyans conducted by Cornell University J.D. Candidate Courtney E. Finerty.
At least 89% of interviewees who "came out" or "were outed" to their families reported that family members disowned them upon discovering their sexual orientation or gender identity
Kenyan government and religious leaders argue they don't need to provide LGBT people basic civil rights because homosexuality is an imported Western concept.
Never mind that foreign Christian groups from the United States actually travel to Kenya to lobby for laws that criminalize gay sex.
The American Center for Law and Justice, a Christian law firm founded by evangelist Pat Robertson, opened an office in Kenya to "to affect at a foundational level the constitutional development of religious liberties."
The group called for the Kenyan constitution to explicitly define marriage as between a man and a woman, thus closing the door on future laws that could attempt to legalize same-sex marriage, according to the Human Rights Campaign.
"We as a country, as a continent, are faced with much more serious issues [than LGBT rights] which we would want to engage the U.S. and all our partners with," Kenyan President Uhuru Kenyatta said on Tuesday.
Gitari, of the National Gay and Lesbian Human Rights Commission, says the Kenyan president is avoiding facing the reality that his citizens are presenting to him.
"We all have equal matters that need to be addressed by the state. He knows from the evidence we've presented to the state that LGBT people are one of the most vulnerable groups in this society," Gitari told Fusion in a telephone interview Tuesday.
Violence against people because of their gender identity or sexual orientation is prohibited by resolution 275 adopted by the African Commission on Human and Peoples' Rights, a group made up of 11 country leaders, where Kenya is a member.
"The president is very strong on African solutions for African challenges and I want to see our own president elevates this African position by speaking against violence and discrimination against LGBT persons," Gitari said.
Until then, Gitari has high hopes for Obama.
"I want Obama to know that he should listen more to the reality on the ground from local LGBT activists and also directly help local LGBT groups," Gitari said.