The saga of "The Doom That Came to Atlantic City!" is not so different from many of the tales of Kickstarter gone wrong.
Enthusiastic backers rushed to invest in the board game, a collaboration between well-known artists and game designers in which characters dreamed up by cult horror writer H.P. Lovecraft set out to destroy Atlantic City. The campaign raised $122,874 from 1,200 people, far exceeding its initial $35,000 goal. Years later, the game had still never materialized, leaving its funders to ponder fruitlessly in the campaign comments section what had become of its creator.
With few options for recourse, the jilted crowdfunder has been regarded as a hit-and-run victim of our bold new economic era. But the Federal Trade Commission issued a signal Thursday that it's cracking down, announcing a settlement in its first ever legal action against a crowdfunding campaign gone awry. And it may not be the last: An FTC spokesperson told Fusion that the number of crowdfunding complaints the agency receives is on the rise.
"Our goal is to deter fraudulent actors from misusing these platforms," Helen Wong, an FTC attorney who worked on the case, told Fusion. "We want to ensure a level playing field for people with good intentions who are using these sites."
Thursday's announcement is part of an ongoing effort, the agency said, to ramp up investigation efforts into "new and emerging financial technology."
G/O Media may get a commission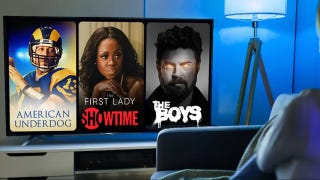 UNDER $1
99¢ Prime Video Channels
"The Doom That Came to Atlantic City!" hit Kickstarter back in 2012, a project helmed by a company called The Forking Path run by a man named Erik Chevalier.
"After paying to form the company, for the miniature statues, moving back to Portland, getting software licenses and hiring artists to do things like rule book design and art conforming the money was approaching a point of no return," Chevalier wrote in a June 2013 Kickstarter post announcing the game would be cancelled. "My hope now is to eventually refund everyone fully."
But few, if any, backers every received a refund, the FTC alleged in a complaint against Chevalier released Thursday along with news of a settlement. The complaint argues that Chevalier deceived backers, spending most of the money he raised on personal costs like moving rather than actually making the game.
At the time the game was cancelled, one of the artists associated with the project, Keith Baker wrote on his blog that he had never received money for the project, or even heard anything about its demise until its fate had already been decided.
"In reality, Defendant never hired artists for the board game and instead used the consumers' funds for miscellaneous personal equipment, rent for a personal residence, and licenses for a separate project," the complaint said.
Kickstarter's terms of service stipulate that creators unable to satisfy their promises to backers may be subject to legal action, but legal action is often difficult and cost-prohibitive.
Back when "The Doom That Came to Atlantic City!" was funded, terms of service required that creators fulfill their obligations by either shipping a product or refunding it, but today, in order to deal with failures like Chevalier's board game, Kickstarter also offers the option of explaining why a project didn't pan out.
Kickstarter backers find themselves in an odd economic position: they are not exactly buying something, but they are not exactly investing either. And if a project fails, how can they tell if it was simply a result of the risks of entrepreneurship, or, something more dubious?
Wong said it is the FTC's role to step in when it is clear that a project creator has "misrepresented" their product to consumers.
"What the FTC cares about is what you tell consumers and whether you have misrepresented what you're selling," she said.
In the case of the Lovecraft-inspired board game, Chevalier admitted to his backers that he had used the funding to cover personal costs like moving, costs that were not clearly outlined in the campaign to raise funds.
Since launching in 2009, Kickstarter has successfully raise more than $1.7 billion dollars for almost 90,000 projects. The company doesn't like to discuss how many of those successfully funded projects never wind up shipping (it declined to provide a number to Fusion for this story), but a company spokesperson said that "creators who abuse our system and backers' trust expose themselves to legal action."
"The Doom That Came to Atlantic City!" has a happier ending than most failed Kickstarter stories. Eventually, another game producer stepped in to make the game. And Chevalier agreed to a settlement with the FTC aimed at preventing him from duping other crowdfunders in the future. A $111,794 judgement was also issued against him, though it was suspended due to his inability to pay. Chevalier, who did not admit guilt in the agreement, did not respond to several requests for comment.
Wong said victims of crowdfunding gone wrong should dig into what happened and file a complaint if it seems like something fishy may be going on.
"You should always file a complaint if you think you are the victim of a scam," she said.