I am horrified by how easy it was for Stephen Paddock to kill so many people in Las Vegas earlier this month. After apparently carrying loads of weapons up to his hotel room, he smashed out two windows and then, as if he were at a firing range, aimed at a crowd of 22,000 people gathered below for an outdoor concert.
Killing is very easy in the United States.
Everybody knows that the nation is dangerously in love with guns. The U.S. has more weapons than residents, and a cursory online search shows that there are 112 firearms here for every 100 inhabitants.
Logic and reason would suggest that the more handguns and rifles there are on the street, the easier it is for them to be used to kill. But that logic has never been persuasive enough for Congress to do anything about the wide availability of firearms here. Shooting after shooting, massacre after massacre, legislators refuse to do anything about guns.
In 2015, 13,500 people died after being shot in the U.S. In the same year, only one person was shot dead in Japan, according to a report quoted by The Washington Post. Only one!
G/O Media may get a commission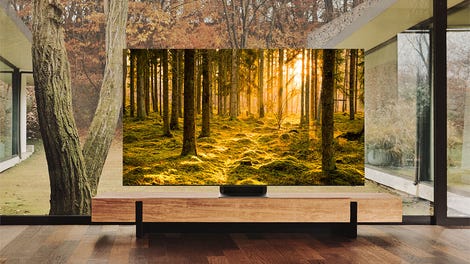 Up to 40% off
Samsung Smart TVs
Why the huge difference? Perhaps because in Japan, it's very difficult to obtain a firearm. There, killing with a gun is not easy — fewer than 1 in 100 Japanese residents own one.
Earlier this year, the BBC chronicled the steps that Japanese citizens must take before buying a gun. In addition to taking classes on firearm use, they must pass a written exam and a shooting-range test with a mark of at least 95%, pass a police background check and have no connections to any extremist groups (relatives and work colleagues will be checked as well). Licenses are valid for three years, then gun owners must submit to this process again.
Japan provides a good example of how gun-related homicides can be reduced dramatically if access to firearms is restricted. Why can't we do it in the United States? Americans' Second Amendment rights can be protected, but so can the lives of other people. This necessary balance is now broken, and shootings have become a dreadfully common occurrence.
I believed in 2012 that after the Sandy Hook Elementary School shooting in Connecticut, in which 20 children and six adults were killed, that things would change. Nothing happened. I thought that after the Pulse nightclub shooting in Florida, in which 49 people were killed, there would be a nationwide push to limit access to firearms. It didn't happen. Now, after the Las Vegas shooting, the worst ever recorded in U.S. history, we're again wondering if something will change. But we know that nothing will. We've become immune.
Outside U.N. headquarters in New York stands an amazing sculpture, a gift from the government of Luxembourg in 1988. It features an enormous pistol with its barrel twisted into a knot. It represents, to me, a desire to control violence.
But I don't see that desire anywhere in the United States. This country refuses to learn the simplest and most obvious of lessons: Fewer firearms mean fewer killings.
After a shooting, politicians will do absolutely nothing, weapons designed to be used in war will continue to be used by the public, and then we'll forget about it all in a couple of weeks. Until the next massacre. This is the new normal.
President Trump, for whom nothing has turned out well in the past several months, will not open up a new battlefront to limit firearms. Besides, the domestic terrorist attack in Las Vegas undercuts his narrative that it is immigrants who pose the real danger.
I was horrified at how easily Paddock murdered his victims, and continue to be horrified at the political establishment's refusal to do anything that might prevent another shooting. It's just so easy to kill here.
(P.S. about paper towels: President Trump showed a complete lack of respect while visiting Puerto Rico earlier this month when he tossed rolls of paper towels into a crowd of hurricane victims. Will Puerto Rican voters remember this when he seeks re-election in 2020?)
Jorge Ramos, an Emmy Award-winning journalist, is a news anchor on Univision. Originally from Mexico and now based in Florida, Ramos is the author of several best-selling books. His latest is "Take a Stand: Lessons From Rebels." Email him at jorge.ramos@nytimes.com.