Former Ohio State wrestlers are accusing Ohio Rep. Jim Jordan, a right-wing former leader of the Freedom Caucus who was rumored to be considering a run for House Republican leader when Paul Ryan retires from Congress, reportedly ignored sexual abuse by the team doctor when he was a coach. And Jordan is denying it.

In April, Ohio State announced that it was investigating allegations that former team doctor Richard Strauss (who died in 2005) abused wrestlers over the course of two decades, from the 1970s to the 1990s. Jordan, according to NBC News, was an assistant coach for the program from 1986 to 1994.
Per NBC News:
Three former wrestlers told NBC News that it was common knowledge that Strauss showered regularly with the students and inappropriately touched them during appointments, and said it would have been impossible for Jordan to be unaware; one wrestler said he told Jordan directly about the abuse.

Former head coach Russ Hellickson, Jordan's mentor, said in a recent video — made by Mike DiSabato, a former wrestler — that Hellickson had told Strauss that he was being too "hands on" with students.
G/O Media may get a commission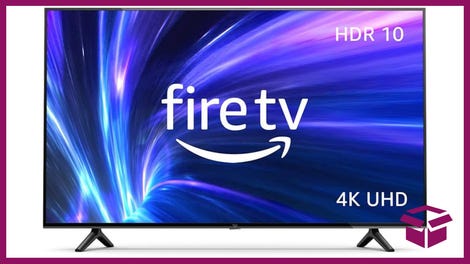 42% Off
Amazon Fire TV 50" 4K Smart TV
"I considered Jim Jordan a friend," DiSabato told NBC News. "But at the end of the day, he is absolutely lying if he says he doesn't know what was going on." DiSabato also said that when he told Jordan about his plan to come forward with his story, Jordan told him to "please leave me out of it."
"These are serious allegations and issues," Doug Andres, a spokesman for Ryan—who is no ally of Jordan—told NBC News. "The university has rightfully initiated a full investigation into the matter. The speaker will await the findings of that inquiry."
Jordan denied knowing about the abuse in two separate statements on Tuesday. "Congressman Jordan never saw any abuse, never heard about any abuse, and never had any abuse reported to him during his time as a coach at Ohio State," Jordan's office said in a statement, according to NBC News. Then, later, his office added the sentence: "He has not been contacted by investigators about the matter but will assist them in any way they ask, because if what is alleged is true, the victims deserve a full investigation and justice."
That's a lie, a lawyer involved with the investigation told NBC News:
But Kathleen Trafford of Porter Wright Morris & Arthur, the Dayton, Ohio-based law firm that was appointed as legal counsel to Ohio State, said in a statement that investigators "had previously contacted Rep. Jordan's office by email and phone to request that he participate in an interview."

"To date, Rep. Jordan has not responded to those requests," Trafford wrote. "The investigative team is continuing its efforts to schedule an interview with Rep. Jordan."
His former wrestlers are bewildered that Jordan now denies knowing about the abuse.
"I remember I had a thumb injury and went into Strauss' office and he started pulling down my wrestling shorts," former Ohio State wrestler Dunyasha Yetts told NBC News. "I went out and told Russ and Jim what happened. I was not having it. They went in and talked to Strauss...for God's sake, Strauss's locker was right next to Jordan's and Jordan even said he'd kill him if he tried anything with him."
Yetts told NBC News that Jordan was a "great guy" who "talked about how one day he'd be president of the United States," which is a totally normal thing for an assistant coach to tell a bunch of teenage wrestlers.
"So it's sad for me to hear that he's denying knowing about Strauss," Yetts said. "I don't know why he would, unless it's a cover-up. Either you're in on it, or you're a liar."