Over the summer, Dallas police used a "bomb robot" to kill a shooting suspect. Now, the Los Angeles County Sheriff's Department has used a similar tactic to non-fatally disarm a suspect they were engaged in a standoff with.
As Los Angeles Times reports, deputies followed Brock Ray Bunge, 51, into "a dark, remote field in the Antelope Valley" last week after he robbed two people and allegedly tried to kill another. Bunge was armed, a SWAT team was brought out, and after several hours they sent in the robot to "gain a closer view of Bunge's hideout."
That afforded them the chance to grab the rifle Bunge was using, in a plan that reads vaguely like some sort of dark slapstick bit. Deputies distracted Bunge by yelling at him to surrender. Meanwhile…

From behind, the olive-colored robot approached and extended its claw into Bunge's hideout.

"The robot was able to move up and grab the gun without him noticing," [Sheriff's Dept Captain Jack] Ewell said. "He never knew it happened."
Deputies quickly reversed the robot and recovered the gun. Then, they sent the device back to the berm and had the robot grab the wire fencing, exposing Bunge's hiding spot.

"He only realized the gun was gone when the robot returned to pull down the wire," Ewell said.

Bunge surrendered immediately.
The Times says that the robot was an Andros model, made by Northrop Grumman, the same model (or at least in the same family of models) which the Dallas PD used in July.
In Dallas, there was uproar over the fact that police deployed a robot to kill a suspect, raising concerns not just about police militarization, but also over whether killing Johnson while not actively exchanging fire with him violated due process. But the reality, at least when it comes to militarization, is that police are already over-militarized: The Dallas PD bought several Andros bots a few years ago through the Department of Defense's 1033 program, which, as Fortune pointed out in July, lets local law enforcement buy a range of military gear including helicopters and military-grade rifles.
But this isn't a particularly new practice for the L.A. Sheriff's Department. Last year, they used a robot to approach an armed woman in a mobile home during a 22-hour standoff. That effort was less successful: she just shot at the robot. A SWAT team was able to arrest her later when she left the home by trying to crawl out from underneath.
G/O Media may get a commission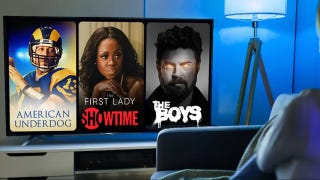 UNDER $1
99¢ Prime Video Channels
That's what feels surprising here, that the plan to disarm Bunge worked as well as it did, relying on distractions and the robot extracting the gun successfully. When it comes to police deploying ground-bots, though, we should probably expect to hear more stories, and they may not all have such neat endings.
Ethan Chiel is a reporter for Fusion, writing mostly about the internet and technology. You can (and should) email him at ethan.chiel@fusion.net