Los Angeles Mayor Eric Garcetti wants his give his city one of the highest minimum wage in the country — $13.25 / hour by 2017.
"Today, I'm proud we're announcing the largest anti-poverty program in this city's history," Garcetti said during a Labor Day press conference in South Los Angeles' Martin Luther King Jr. Park, located in a predominantly black and Latino neighborhood.
An economic study commissioned by the mayor's office found the minimum wage hike — up from California's current minimum wage of $9/ hour — would mostly impact black, Asian and Latino workers. Some 567,000 workers in L.A. – or 37 percent of the total workforce– would receive a pay raise under the mayor's proposed law, according to UC Berkeley's Institute for Research on Labor and Employment.
The study found that 83 percent of the workers who would receive a raise under the initiative are people of color.
The wage increase would be rolled out incrementally over time, according to the mayor's proposal. The first increase of $1.25 would happen in the first year, and an additional $1.50 each of the following two years, reaching $13.25 by 2017.
G/O Media may get a commission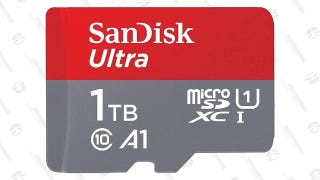 Save $75
SanDisk Ultra 1TB MicroSDXC Card
San Francisco currently has the highest minimum wage in the nation, at $10.74 / hour. The city will vote in November to raise their minimum wage to $15.
"Businesses will have to address the increased costs,'' Stuart Waldman, president of the Valley Industry and Commerce Association told the L.A. Times. "They will either increase their price or lay people off or move their business."
The mayor's minimum wage proposal is already backed by seven of 15 city council members, and President Barack Obama praised the plan in a White House video address released Monday.