Last night in Fort Lauderdale, Florida marked the opening date of Lady Gaga's new #artRave tour, supporting her most recent album, Artpop. The once-unquestionably reigning diva has suffered more than a few PR dings lately. Just note, for instance, the weird debacle related to Angela Cheng, a probably fictitious blogger who made up a viral but unsubstantiated post about Artpop's supposedly poor sales. Her longtime costume designer, Nicola Formichetti—the man responsible for the infamous meat dress—stepped down last year. And other pop stars once lagging behind—like Katy Perry—loom larger than ever in the public spotlight.
So the #artRave tour has its work cut out for it in bringing Gaga back to everyone's lips. Luckily for her, her Little Monsters are as devoted as ever. Thanks to their thorough social media activities, we already know that #artRave is no less than the kind of spectacle we would hope to expect from Mother Monster.
As an example, here she is performing "Paparazzi" while dressed as a giant blue and pink octopus (?).
And here she is shaking what her mama gave her during a performance of "Manicure." (We're only sharing a front view because if you work in a conservative cubicle, the rear views of this number are probably NSFW.)
G/O Media may get a commission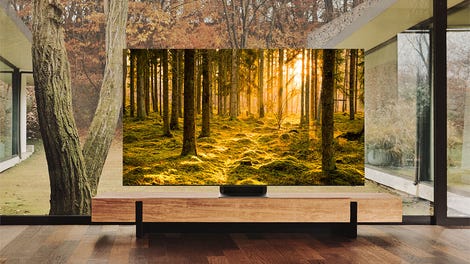 Up to 40% off
Samsung Smart TVs
Here's the important part! Besides a track list spanning a healthy dose of Artpop (naturally) and past hits, Gaga also debuted a new song last night.
Here's the track list:
Right up there is the new song, "Party Nauseous," which has already been uploaded (with super-shaky video, but decent sound) to YouTube. As a departure from the rest of Artpop's dark, almost industrial-inflected thump, it starts out based on a rattling, hip-hop-style beat and a languid, rap-like vocal delivery that kinda recalls M.I.A. But from there, it goes into a hardstyle, almost happy-hardcore-esque build-up—it's a song that's all over the place, but in a way that builds enough dramatic tension to keep you hooked.
Interestingly, she originally penned the song for Kendrick Lamar's debut album, on which it would have sounded super out of place. But the verdict? "Party Nauseous" is a positive turn for Gaga—and for pop radio, with its fresh blend of disparate influences. Check out the YouTube video of the track below, via user Marcelo Estrada.
http://www.mtv.com/news/1695019/lady-gaga-kendrick-lamar-track/

Arielle Castillo is Fusion's culture editor, reporting on arts, music, culture, and subcultures from the streets on up. She's also a connoisseur of weird Florida, weightlifting, and cats.