Amy Sedaris wears so many hats that she made one the cover of her second book, which could quite literally be folded into a wearable hat.
She's an actress, an author, and an outrageously funny comedian. From her role as Carrie Bradshaw's agent to her voice-over acting as Princess Caroline on Netflix's BoJack Horseman, Sedaris magically transforms straightforward sentences into jokes good enough to cackle at.
Here are five stunningly ridiculous moments from throughout Sedaris' career to brighten up your dull workday:

Amy plays a marriage counselor
G/O Media may get a commission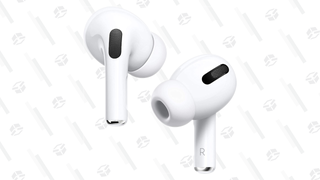 28% Off
Apple AirPods Pro Wireless Earbuds
Like many great comedians, Amy Sedaris started her career at the Second City comedy troupe in Chicago. In 1997, she worked with Paul Dinello and Stephen Colbert on a CBS comedy show called Exit 57 that was beloved critically but tanked in the ratings. It was cancelled after one 12-episode season, but this clip of Sedaris playing a marriage counselor obsessed with her own love life survives for all of us to enjoy.

Amy makes cheeseballs with Martha Stewart
Martha Stewart's face barely moves when she smiles, so it's not easy to crack a buncha jokes on her show, but guess what? Amy Sedaris did it. To promote her book I Like You: Hospitality Under the Influence, Sedaris went on Martha Stewart's talk show to make the delicious Southern delicacy called cheeseballs. The recipe is all prettied up on Martha's site, but in the video Sedaris sneaks in the phrase "blue balls," so that's obviously an infinitely better option.

Amy teaches Chelsea Handler about vaginal health
On the same book tour, Sedaris journeyed to Chelsea Handler's former late-night show, Chelsea Lately, to regale her with stories about games you can play with old people and also teach her a little bit about sexual health. She brought her own very well-designed paper vagina to demonstrate, so you know it's a fun, educational time for all!

Amy appears on Broad City
Part of what's fun about watching Sedaris work is how often her roles allow her to be completely over the top. In this scene on Broad City, Sedaris plays a real estate agent trying to sell the two main characters on an incredibly terrible apartment with no bathroom. "Where isn't the bathroom?!" Sedaris exclaims. But what's great about her acting in this scene is how physical her comedy is, how she uses the neck brace prop and the objects in the room to expand on just how tiny of an apartment she really is showing.

Amy, as a cat, gives herself a motivational speech
After being left by her on-again, off-again boyfriend BoJack Horseman, Amy Sedaris' character Princess Caroline gives herself a pump-up speech to get back on track. This is a good speech to memorize and recite to yourself every morning when you are getting ready for work. But it's also a great example of how much Sedaris can do with voice acting—how seamlessly she manages to convey humor and pain in just a few short lines.
Kelsey McKinney is a culture staff writer for Fusion.