Caitlyn Jenner revealed to Vanity Fair that she spent 10 hours in an operating room for a series of surgeries to make her face more feminine.
Jenner's new appearance, which was unveiled on the cover of the July issue of Vanity Fair on Monday, was largely celebrated, but it has sparked conversations about beauty standards and material access.
Actress Laverne Cox, who last year became the first openly transgender woman to grace the cover of Time Magazine, said she loved Jenner's Vanity Fair cover. But Cox said the photos made her "reflect critically on my own desires to 'work a photo shoot.'"
"There are many trans folks because of genetics and/or lack of material access who will never be able to embody these [beauty] standards," Cox wrote on Tumblr late Monday night.
Cox was referring to beauty standards that she said are set by cisgender women, or women who were assigned female on their birth certificates at birth.
G/O Media may get a commission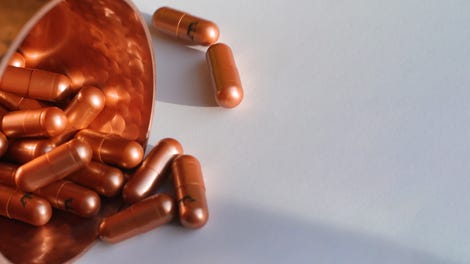 health
The Lyma Supplement
"Most trans folks don't have the privileges Caitlyn and I have," said Cox.
Cox never specifically mentioned or referred to cosmetic procedures in the Tumblr post, but it's important to note few people can pay for 10 hours of cosmetic surgery. Equally important is the fact that some transgender people don't want to have those surgeries.
Plastic surgery can cost tens of thousands of dollars which can be hard for anyone to come up with that amount of money. This can be especially difficult for transgender people, who are more likely to be underemployed or unemployed.
Black transgender individuals living in the U.S., for example, are nearly four times more likely to have a household income under $10,000 per year compared to all African Americans, according to an analysis released earlier this year by the Center for American Progress, the leading progressive think tank in Washington.
A dismal annual income translates to extremely limited access to cosmetic surgery which can affect how well a transgender person can "pass" in a world that appreciates cisnormative beauty standards. And since trans people have few employment discrimination protections, passing can determine one's chances of being gainfully employed.
Which may explain why 21 percent of male to female trans people report having had breast augmentation, but 53 percent of respondents said they one day want to have the surgery, according to the largest study of transgender people living in the U.S. conducted in 2011 by the LGBT civil rights groups the National Gay and Lesbian Task Force.
The study also found 26 percent of trans male to female survey respondents said they didn't want the breast augmentation surgery.
RELATED: What trans people of color fear after the Jenner media circus
About 17 percent of male-to-female transgender survey respondents said they've had facial surgeries.
A forehead reduction surgery that lowers the hairline and is common in feminization surgeries can average about $9,000 dollars, according to RealSelf.com, an online community where users share reviews and costs of cosmetic surgery procedures.
All these surgeries are considered "elective cosmetic surgeries" and are usually not covered by health insurance plans, according to the American Society of Plastic Surgeons.
Cox said Jenner looks amazing, "but what I think is most beautiful about her is her heart and soul, the ways she has allowed the world into her vulnerabilities."
"I have hoped over the past few years that the incredible love I have received from the public can translate to the lives of all trans folks. Trans folks of all races, gender expressions, ability, sexual orientations, classes, immigration status, employment status, transition status, genital status etc.," Cox wrote on Tumblr.
"I hope, as I know Caitlyn does, that the love she is receiving can translate into changing hearts and minds about who all trans people are as well as shifting public policies to fully support the lives and well being of all of us."